Me, Inc. How to Master the Business of Being You: A Personalized Program for Exceptional Living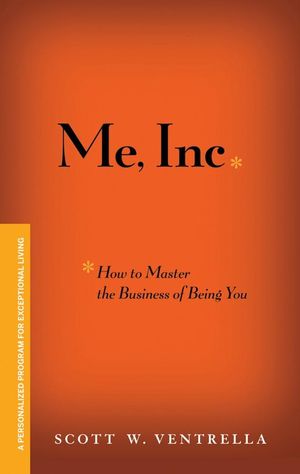 Me, Inc. How to Master the Business of Being You: A Personalized Program for Exceptional Living
ISBN: 978-0-470-11742-2
May 2007
176 pages
Description
Advance praise for Me, Inc

""Ventrella takes the best practices of Fortune 500 companies and shows how you can apply them to another important venture--you! Your life deserves at least as much attention as your job does, so read this book and turn your time on Earth into a satisfying, meaningful enterprise.""
--Ken Blanchard, coauthor of The One Minute Manager? and Leading at a Higher Level

""Rarely does a book so authentically capture the essence of what a true personal brand transformation is all about. Me, Inc. provides a unique approach to discovering your personal brand and making it a reality. Through Ventrella's insights and invaluable self-discovery tools, readers quickly learn that when you build your personal brand, you build a brand of value--value that eloquently translates into success throughout every facet of your life.""
--Laura Tessinari, Senior Partner, Director of Training, Ogilvy & Mather

""The Me, Inc. program has guided me on the path to even greater personal and professional achievement and life satisfaction than I ever thought possible.""
--Jack Hallahan, Vice President, Advertising and Brand Partnerships, MobiTV

""In all of the thirteen years since I first heard Ventrella speak on this subject, I have consistently been impressed by the value of his approach and the responses of the hundreds of students who have benefited from his structured program. With the publication of Me, Inc., Ventrella reveals to a much larger audience the way to create successful, happy lives. His students at Fordham and executive coaching clients have been applying it with excellent results for years.""
--James A. F. Stoner, Professor Fordham University, Graduate School of Business Administration

""Me, Inc. provides a clear road map to achieving your goals and finding greater work-life balance. Ventrella's approach offers an interesting and powerful way to assume control; by managing your life's ambitions as seriously as you might a business endeavor, you can clarify your thoughts, set priorities, and turn your dreams into reality. Ventrella is a very effective coach and, like any good boss, he doesn't let you off the hook. You want to change things? Look no further.""
--Teri Schindler, Media Consultant, Patrick Davis Partners
Introduction.
Living on Purpose: Yes, You Can Have the Exceptional Life.
You've Always Dreamed Of.
PHASE 1: FIGURING OUT WHAT YOU WANT AND WHY YOU WANT IT.
Milestone 1, Week 1. The Burning Platform: Making a case for Change.
Activity: Cost of Inefficient Living (COIL).
Milestone 2, Week 2.I Always Wanted to Be..."" Establishing Your Platinum Standard.
Activity: The Big Dig.
PHASE 11: CREATING YOUR EXCEPTIONAL LIVING PLAN.
Milestone 3, Week 3. What Matters Most: getting Your Priorities Straight.
Activity: Priority Pyramids.
Milestone 4, Week 4. Who matters Most: Incorporating Others Into Your Plan.
Activity: Circles of Customers.
Milestone 5, Week 5. To the Horizon and Beyond: Setting Goals and Uber-Goals.
Activity: Ideal Juicing.
Milestone 6, Week 6. Now You Got It: Putting It All Together.
Activity: The Exceptional Living Plan.
PHASE III. TURNING YOUR PLAN INTO REALITY.
Milestone 7, Weeks 7-8. A Picture Is Worth a Thousand Words: Figuring Out What's Working.
Activity: Picturization.
Milestone 8, Weeks 9-10. Firefighting: Leaving the Crisis Zone.
Activity: The Five Why's.
Milestone 9, Week 11. The Art of Anticipation: Wowing Your Customers.
Activity: Quick Pulse Check.
Milestone 10, Weeks 12-13. Free to Be: Empowering Yourself and Others.
Activity: Outsourcing.
Milestone 11. Weeks 14-15. The A-Plus Player: Entering the Purpose Zone.
Activity: Supercharge Me!
PHASE IV. KEEPING YOUR MOMENTUM GOING.
Milestone 12, Week 16. The Only Constant in Life Is Change: Embracing the Spirit of Continuous Improvement.
Activity: This Is Your Life.
Epilogue: Would You Follow You?: Being a leader.
Acknowledgments.