Meaning in Action: Outline of an Integral Theory of Culture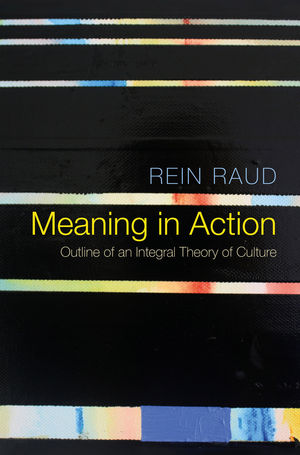 Meaning in Action: Outline of an Integral Theory of Culture
ISBN: 978-1-509-51128-0 September 2016 Polity 240 Pages
Download Product Flyer
Download Product Flyer
Download Product Flyer is to download PDF in new tab. This is a dummy description. Download Product Flyer is to download PDF in new tab. This is a dummy description. Download Product Flyer is to download PDF in new tab. This is a dummy description. Download Product Flyer is to download PDF in new tab. This is a dummy description.
Description
In this important new book Rein Raud develops an original theory of culture understood as a loose and internally contradictory system of texts and practices that are shared by intermittent groups of people and used by them to make sense of their life-worlds. This theory views culture simultaneously in two ways: as a world of texts, tangible and shareable products of signifying acts, and as a space of practices, repeatable activities that produce, disseminate and interpret these clusters of meaning. Both approaches are developed into corresponding models of culture which, used together, are able to provide a rich understanding of any meaning in action.

In developing this innovative theory, Raud draws on a wide range of disciplines, from anthropology, sociology and cultural studies to semiotics and philosophy. The theory is illustrated throughout with examples drawn from both 'high' and popular culture, and from Western and Asian traditions, dealing with both contemporary and historical topics. The book concludes with two case studies from very different contexts – one dealing with Italian poetry in the 13th century, the other dealing with the art scene in Eastern Europe in the 1990s.

This timely and original work makes a major new contribution to the theory of culture and will be welcomed by students and scholars throughout the social sciences and humanities.
Table of contents
Acknowledgements
Introduction
An outline of the theory and the book
1 Looking for culture, looking at things
Social/cultural
Cultural communities
The cultural subject
Summary
2 Meaning and signification
The problem of reference
Two kinds of concepts
The internalisation of meaning
Claims and bids
Summary
3 Culture as textuality
Base-texts and result-texts
The operational memory
Organisation of knowledge
Standards and codes
Summary
4 Culture as a network of practices
The cultural role: functions and goals of a practice
The social position: the carrier and status of a practice
Materials and rules
Cultural institutions
Summary
5 Case Study I: The metaphysics of love and the beginnings of Italian vernacular poetry
Italian political landscape in the 13th century: the bidding space
The poetic context
The carriers of the practice
The science of love as privileged knowledge
Vulgare, the medium
Institutions and textuality
Summary
6 Case Study II: Art and politics in Eastern Europe in the 1990s
The institutions
The carriers
Textuality, codes and languages
Summary
7 Concluding remarks
A few final words
References
Index
Reviews
"A high wire act of cultural theorizing, ambitious and original. Raud pushes the textual tradition of semiotics further than anybody has ever done, into situated, existential practices and circulating cultural institutions. The case studies are fascinating in themselves and illustrate how Raud's theory might work in practice."
Jeffrey Alexander, Yale University
"Professor Raud's range is amazing and his book combines in an exciting way perspectives which usually are kept separate. His voice, coming from a less well-known tradition, adds a genuinely new element."
Maurice Bloch, The London School of Economics and Political Science


"Meaning in Action would be worth reading for the ambition and importance of its project alone, but Raud's thorough analysis of the fundamentals of culture make this an extremely worthwhile read, and one that I think may spawn a vital discussion about the basic conceptual structure of culture itself."
Cultural Sociology