Means Landscape Estimating Methods, Updated 5th Edition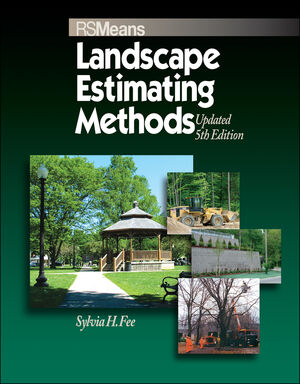 Means Landscape Estimating Methods, Updated 5th Edition
ISBN: 978-0-876-29013-2
Apr 2007
336 pages
Description
This best-selling reference for landscape contractors, designers, and facilities maintenance personnel – now updated in its fifth edition – features the latest design trends and technologies.

Includes:
Step-by-step explanation of the estimating process – including full sample estimate for a major landscape project – updated with current costs and the new MasterFormat classification system.
Expanded and revised to address the latest materials and methods, including new coverage on approaches to green building that save water, reduce maintenance costs, and provide other benefits to the facility.
Sample forms and worksheets that save you time and prevent errors, now available on a new companion website. Download the forms of your choice and customize them for your firm.
Professional guidance on calculating and controlling equipment costs – whether purchased or rented – and how to apply them correctly to each job.
Assistance in planning and identifying maintenance costs.
Your best source for professional guidance on accurate landscape estimates and reliable bids.
FEATURES:
Includes a companion website with the book's forms and worksheets to download and customize.
Features new coverage of the latest industry trends, materials, and methods to save water and reduce maintenance costs.
About the Author.
Introduction.
Chapter 1: Today's Landscape Industry.
Breaking Down a Landscape Project.
The Landscape Professional & Project Management.
Building Your Business.
Planning the Landscape Proposal.
Conclusion.
Chapter 2: Materials & Methods.
Site Work.
Hard Construction, or "Hardscape".
Horticultural Materials.
Irrigation Systems (Sprinkler & Drip).
Lighting.
Other Green Building Approaches to Landscaping.
Specialties.
Historic Landscape Preservation.
Seasonal Specialties.
The Americans with Disabilities Act (ADA) Requirements.
Conclusion.
Chapter 3: Equipment.
Equipment Rental & Subcontracting.
The Economics of Purchase & Leasing.
Life Cycle Costs & Productivity.
Tracking Costs.
Equipment Life Expectancy.
Conclusion.
Chapter 4: Beginning the Estimate.
To Bid or Not to Bid.
Prior Knowledge & Estimating.
Before Starting the Estimate.
The Landscape Project Analysis Form.
Types of Estimates.
Conclusion.
Chapter 5: How to Take Off Quantities.
Takeoff Tips.
Guidelines for the Takeoff.
The Step-by-Step Takeoff Process.
Conclusion.
Chapter 6: Pricing the Estimate.
Grouping the Items.
Adding Costs.
Types of Costs.
Conclusion.
Chapter 7: Sample Takeoff & Estimate.
Sample Project.
Area Measurements & Plan Reading.
Site Work.
Hard Construction.
Plant & Landscape Materials.
Estimate Summary.
Conclusion.
Chapter 8: Bidding.
What Makes a Winning Bid?
Bidding Strategies.
The Bid Package.
Types of Bids.
Putting Together a Bid.
Conclusion.
Chapter 9: Job Planning & Scheduling.
The Planning Team.
The Job Schedule.
Plan, Coordinate, Target.
Time Schedules.
Sequence of Installation & Duration Time.
Project Budget.
Schedule Review.
Work Completion.
Conclusion.
Chapter 10: Estimating Maintenance Costs.
Business Growth & Opportunity.
Division of Maintenance Tasks.
Landscape Materials.
Vehicles & Equipment.
Work Crews or Teams.
Site Inspection.
Scheduling & Travel Time.
Facilities Personnel as Landscape Managers.
The Landscape Contractor's Ongoing Performance Analysis.
Developing a Maintenance Proposal: An Example.
Conclusion.
Chapter 11: How to Use Means Cost Data.
Using Cost Data.
Format of Data.
Unit Price Section.
Assemblies Cost Tables.
Reference Numbers.
City Cost Indexes.
Historical Cost Indexes.
Conclusion.
Appendix.
Appendix A– Estimating.
Appendix B– Site Work.
Appendix C– Hard Construction.
Appendix D–Planting & Weather.
Appendix E–Resources.
Appendix F–Abbreviations.
Index.