Measuring Glass Ceiling Effects in Higher Education: Opportunities and Challenges: New Directions for Institutional Research, Number 159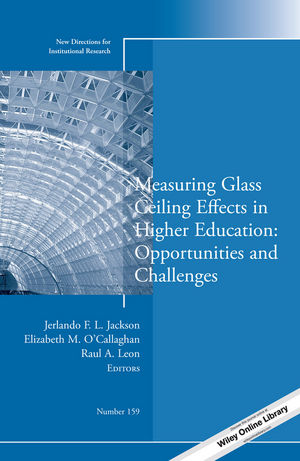 Measuring Glass Ceiling Effects in Higher Education: Opportunities and Challenges: New Directions for Institutional Research, Number 159
ISBN: 978-1-118-95628-1
Jul 2014, Jossey-Bass
112 pages
Description
This volume offers readers a comprehensive means to understanding glass ceiling effects in higher education. Each chapter approaches the glass ceiling from a different perspective, providing compelling
arguments that truly highlight the importance and usefulness of collecting data on this topic.

Institutional decision makers will find valuable information to confront the challenge of glass ceiling effects across different institutional environments. Likewise, institutional researchers will find step-by-step protocols to collect and analyze glass ceiling data as well as a variety of rich examples. Readers will not only find this sourcebook useful for institutional planning purposes, but it will also help them truly understand how the glass ceiling impacts women and people of color in higher education.
EDITORS' NOTES 1
Jerlando F. L. Jackson, Elizabeth M. O'Callaghan, Raul A. Leon
1. Using Salary as a Measure of Glass Ceiling Effects: Lessons for Institutional Researchers 13
Vicki J. Rosser, Ketevan Mamiseishvili
This chapter examines glass ceiling effects through the metric of salary equity.
2. Using Critical Interpretive Lenses to Examine Glass Ceiling Effects Through Qualitative Research
25
Lori D. Patton, Chayla M. Haynes
This chapter highlights the importance of qualitative approaches to studying the glass ceiling in contrast to exclusively quantitative measures.
3. Approximating Glass Ceiling Effects Using Cross-Sectional Data 37
Jerlando F. L. Jackson, Elizabeth M. O'Callaghan, Ryan P. Adserias
This chapter reviews methodological issues surrounding the measurement of glass ceiling effects and summarizes findings from one crosssectional analysis study.
4. Faculty Diversity and the Traditions of Academic Governance 49
James T. Minor
This chapter explores eliminating faculty-related glass ceiling effects through academic governance.
5. Using Human Resource Software Technology to Mitigate Glass Ceiling Effects in Higher Education: Interdisciplinary Applications for Managing Diversity 63
LaVar Jovan Charleston
This chapter describes how software technology may be used as an interdisciplinary approach to managing diversity in higher education to mitigate glass ceiling effects.
6. Organizational Learning as a Framework for Overcoming Glass Ceiling Effects in Higher Education 75
Damon A. Williams
This chapter centers on the challenges of translating glass ceiling research findings into meaningful organizational change initiatives, moving from theory or scholarship to practice.
7. Stellar Programs and Initiatives 85
Raul A. Leon
This chapter serves as a resource for identifying selected programs and initiatives in higher education that demonstrate great promise in addressing glass ceiling effects in the workplace.
INDEX 97