Mechanical and Electrical Equipment for Buildings, 10th Edition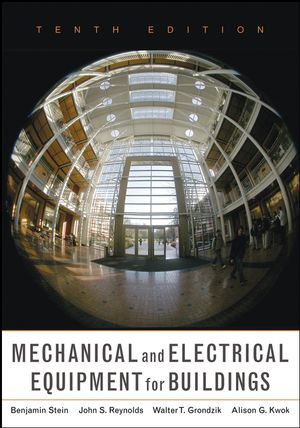 Mechanical and Electrical Equipment for Buildings, 10th Edition
ISBN: 978-0-471-46591-1
Nov 2005
1744 pages
Product not available for purchase
Description
Continuing its proud heritage, this Tenth Edition provides thorough coverage of the latest in the theory and practice of environmental control system design. This bestselling book encompasses mechanical and electrical systems for buildings of all sizes, featuring design guidelines and detailed design procedures for every topic covered and supported by more than 2,200 illustrations—over 225 new to this edition!
Preface.
Acknowledgments.
PART I: DESIGN CONTEXT.
Chapter 1. Design Process.
Chapter 2. Environmental Resources.
Chapter 3. Sites and Resources.
Chapter 4. Comfort and Design Strategies.
Chapter 5. Indoor Air Quality.
PART II: THERMAL CONTROL.
Chapter 6. Solar Geometry and Shading Devices.
Chapter 7. Heat Flow.
Chapter 8. Designing for Heating and Cooling.
Chapter 9. HVAC for Smaller Buildings.
Chapter 10. Larger Building HVAC Systems.
PART III: ILLUMINATION.
Chapter 11. Lighting Fundamentals.
Chapter 12. Light Sources.
Chapter 13. Lighting Design Process.
Chapter 14. Daylighting Design.
Chapter 15. Electric Lighting Design.
Chapter 16. Electric Lighting Applications.
PART IV: ACOUSTICS.
Chapter 17. Fundamentals of Architectural Acoustics.
Chapter 18. Sound In Enclosed Spaces.
Chapter 19. Building Noise Control.
PART V: WATER AND WASTE.
Chapter 20. Water and Basic Design.
Chapter 21. Water Supply.
Chapter 22. Liquid Waste.
Chapter 23. Solid Waste.
PART VI: FIRE PROTECTION.
Chapter 24. Fire Protection.
PART VII: ELECTRICITY.
Chapter 25. Principles of Electricity.
Chapter 26. Electrical Systems and Materials: Service and Utilization.
Chapter 27. Electrical Systems and Materials: Wiring and Raceways.
Chapter 28. Electric Wiring Design.
Chapter 29. Photovoltaic Systems.
PART VIII: SIGNAL EQUIPMENT.
Chapter 30. Signal Systems.
PART IX: TRANSPORTATION.
Chapter 31. Vertical Transportation: Passenger Elevators.
Chapter 32. Vertical Transportation: Special Topics.
Chapter 33. Moving Stairways and Walks.
PART X: APPENDICES.
Appendix A. Metrication, SI Units, and Conversions.
Appendix B. Climatic Conditions for the Unites States, Canada, and Mexico.
Appendix C. Solar and Daylighting Design Data.
Appendix D. Solar Geometry.
Appendix E. Thermal Properties of Materials and Assemblies.
Appendix F. Heating and Cooling Design Guidelines and Information.
Appendix G. Standards/Guidelines for Energy- and Resource-Efficient Design.
Appendix H. Annual Solar Performance.
Appendix I. Economic Analysis.
Appendix J. Lamp Data.
Appendix K. Sound Transmission Data for Walls.
Appendix L. Sound Transmission and Impact Insulation Data for Floor/Ceiling Constructions.
Appendix M. Design Analysis Software.
Index.
For the first time, is accompanied by a companion website.  This includes Case Studies in PowerPoint format, Test Banks, Chapter Summaries, Key Concepts, and Outlines; Terminology and Metrics; and Resource Links
Updated to reflect the latest developments in energy efficiency, user comfort, light sources, acoustics, and site analysis
225 new illustrations and 580 revised illustrations
New chapters on design process, solar geometry and daylighting, and photovoltaics; and new case studies
New design and reconfiguration for easy use and navigation
New co-authors, Walter Grondzik of FL A&M Univ and Alison Kwok, Univ of Oregon
Comprehensively covers all aspects of mechanical and electrical equipment for multiple courses in architecture, architectural engineering, and construction management.
Almost three times as large as any competing text
Over 2,200 illustrations, tables, and photographs
Twice awarded the AIA's Citation for Excellence in International Architecture Book Publishing