Mechanical and Electrical Equipment for Buildings, 11th Edition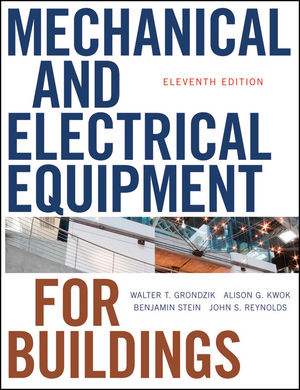 Mechanical and Electrical Equipment for Buildings, 11th Edition
ISBN: 978-0-470-62106-6
Dec 2010
1776 pages
Description
For more than half a century, this book has been a fixture in architecture and construction firms the world over. Twice awarded the AIA's Citation for Excellence in International Architecture Book Publishing, Mechanical and Electrical Equipment for Buildings is recognized for its comprehensiveness, clarity of presentation, and timely coverage of new design trends and technologies. Addressing mechanical and electrical systems for buildings of all sizes, it provides design guidelines and detailed design procedures for each topic covered. Thoroughly updated to cover the latest technologies, new and emerging design trends, and relevant codes, this latest edition features more than 2,200 illustrations--200 new to this edition--and a companion Website with additional resources.
Preface.
Acknowledgments.
PART I DESIGN CONTEXT.
Chapter 1 Design Process.
Chapter 2 Environmental Resources.
Chapter 3 Sites and Resources.
Chapter 4 Comfort and Design Strategies.
Chapter 5 Indoor Air Quality.
PART II THERMAL CONTROL.
Chapter 6 Solar Geometry and Shading Devices.
Chapter 7 Heat Flow.
Chapter 8 Designing For Heating and Cooling.
Chapter 9 HVAC for Smaller Buildings.
Chapter 10 Large Building HVAC Systems.
PART III ILLUMINATION.
Chapter 11 Lighting Fundamentals.
Chapter 12 Light Sources.
Chapter 13 Lighting Design Process.
Chapter 14 Daylighting Design.
Chapter 15 Electric Lighting Design.
Chapter 16 Electric Lighting Applications.
PART IV ACOUSTICS.
Chapter 17 Fundamentals of Architectural Acoustics.
Chapter 18 Sound in Enclosed Spaces.
Chapter 19 Building Noise Control.
PART V WATER AND WASTE.
Chapter 20 Water and Basic Design.
Chapter 21 Water Supply.
Chapter 22 Liquid Waste.
Chapter 23 Solid Waste.
PART VI FIRE PROTECTION.
Chapter 24 Fire Protection.
PART VII ELECTRICITY.
Chapter 25 Principles of Electricity.
Chapter 26 Electrical Systems and Materials. Service and Utilization.
Chapter 27 Electrical Systems and Materials. Wiring and Raceways.
Chapter 28 Electric Wiring Design.
Chapter 29 Photovoltaic Systems.
PART VIII SIGNAL SYSTEMS.
Chapter 30 Signal Systems.
PART IX TRANSPORTATION.
Chapter 31 Vertical Transportation: Passenger Elevators.
Chapter 32 Vertical Transportation. Special Topics.
Chapter 33 Moving Stairways and Walks.
PART X APPENDICES.
Appendix A Metrication, SI Units, and Conversions.
Appendix B Climatic Conditions for the United States, Canada, and Mexico.
Appendix C Solar and Daylighting Design Data.
Appendix D Solar Geometry.
Appendix E Thermal Properties of Materials and Assemblies.
Appendix F Heating and Cooling Design Guidelines and Information.
Appendix G Standards/Guidelines for Energy- and Resource-Efficient Building Design.
Appendix H Annual Solar Performance.
Appendix I Economic Analysis.
Appendix J Lamp Data.
Appendix K Sound Transmission Data for Walls.
Appendix L Sound Transmission and Impact Insulation Data for Floor/Ceiling Constructions.
Appendix M Design Analysis Software.
Index.
New and notable:
Increased attention placed on mitigating environmental impacts, in both off-site and on-site resources

Case studies showing successful integration of design strategies

Discussions of "why" and "how to," which help the reader better understand concepts and applications

Discussions of computer-based design simulations, incorporating an appreciation of hand calculation skills