Mechanical and Electrical Equipment for Buildings, 12e with Interactive Resource Center Access Card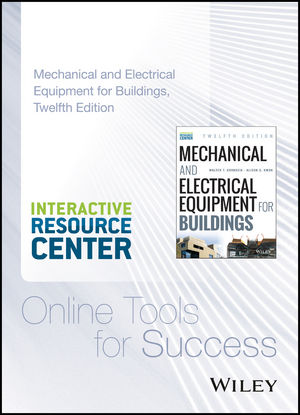 Mechanical and Electrical Equipment for Buildings, 12e with Interactive Resource Center Access Card
ISBN: 978-1-118-99616-4
Oct 2014
1856 pages
Description
The Interactive Resource Center is an online learning environment where instructors and students can access the tools they need to make efficient use of their time, while reinforcing and assessing their understanding of key concepts for successful understanding of the course. The online Interactive Resource Center contains resources tied to the book, such as:
Interactive Animations
Interactive Self-tests
Interactive Flashcards
Case Studies
Respondus Testbank (instructors only)
Instructor's Manual (over 200 pages) including additional resources (Instructors only)
Roadmap to the 12th Edition (Instructors only)
Student Guide to the Textbook
With over 2,200 drawings and photographs—more than 300 of them new to this edition—Mechanical and Electrical Equipment for Buildings covers basic theory, preliminary building design guidelines, and detailed design procedures for buildings of all sizes, and also provides information on the latest technologies, emerging design trends, and updated codes. In addition, the companion web site includes over 30 Interactive Animations, new case studies, a test bank in Respondus, and Instructor's Manual.
Preface xix
Acknowledgments xxiii
Part I The Building Design Context 1
Chapter 1 Design Process 3
Chapter 2 Environmental Resources 31
Chapter 3 Sites and Resources 61
Part II Design Fundamentals 107
Chapter 4 Thermal Comfort 109
Chapter 5 Indoor Air Quality 129
Chapter 6 Solar Geometry and Shading Devices 167
Chapter 7 Heat Flow 193
Part III Passive Environmental Systems 239
Chapter 8 Daylighting 241
Chapter 9 Passive Heating 295
Chapter 10 Passive Cooling 337
Chapter 11 Integrating Passive Systems 393
Part IV Active Environmental Systems 419
Chapter 12 Active Climate Control 421
Chapter 13 Lighting Fundamentals 583
Chapter 14 Electric Light Sources 639
Chapter 15 Lighting Design Process 671
Chapter 16 Electric Lighting Design 697
Chapter 17 Electric Lighting Applications 751
Chapter 18 Water and Basic Design 793
Chapter 19 Water Supply 837
Chapter 20 Liquid Waste 927
Chapter 21 Solid Waste 999
Chapter 22 Fundamentals of Architectural Acoustics 1015
Chapter 23 Sound in Enclosed Spaces 1043
Chapter 24 Building Noise Control 1073
Chapter 25 Fire Protection 1141
Chapter 26 Principles of Electricity 1219
Chapter 27 Electrical Systems and Materials: Service and Utilization 1239
Chapter 28 Electrical Systems and Materials: Wiring and Raceways 1299
Chapter 29 Electric Wiring Design 1335
Chapter 30 Photovoltaic Systems 1383
Chapter 31 Signal Systems 1409
Chapter 32 Vertical Transportation: Passenger Elevators 1445
Chapter 33 Vertical Transportation: Special Topics 1515
Chapter 34 Moving Stairways and Walks 1535
Appendix A Metrication, SI Units, and Conversions 1557
Appendix B Climatic Conditions for the United States, Canada, and Mexico 1563
Appendix C Solar and Daylighting Design Data 1589
Appendix D Solar Geometry 1635
Appendix E Thermal Properties of Materials and Assemblies 1649
Appendix F Ventilation and Infiltration 1695
Appendix G Heating and Cooling Design Guidelines and Information 1703
Appendix H Standards/Guidelines for Energy-and Resource-Efficient Building Design 1727
Appendix I Annual Solar Performance 1733
Appendix J Economic Analysis 1765
Appendix K Sound Transmission Data 1771
Appendix L Design Analysis Software 1791
Index 1795