Mechanics of Materials, 6th Edition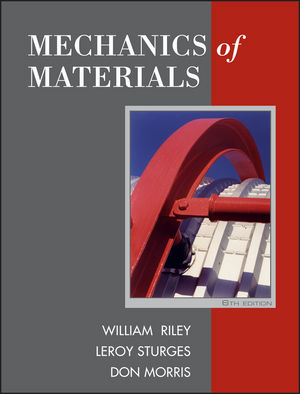 Mechanics of Materials, 6th Edition
ISBN: 978-0-470-50873-2
Mar 2009
720 pages
Description
  In the 6th edition of Mechanics of Materials, author team Riley, Sturges, and Morris continue to provide students with the latest information in the field, as well as realistic and motivating problems. This updated revision of Mechanics of Materials (formerly Higdon, Olsen and Stiles) features thorough treatment of stress, strain, and the stress-strain relationships. These topics are covered before the customary treatments of axial loading, torsion, flexure, and buckling, allowing for earlier introduction of more realistic problems, such as those associated with combined loadings.

Riley, Sturges, and Morris continue to write in a student-friendly style that includes new illustrations throughout each chapter. The text stresses the use of fundamental principles and the concepts of mechanics to solve all problems. As a result, students must apply the information presented in each chapter to answer realistic problems instead of simply using formulas. This problem solving method motivates students to learn the material because they see how it is used in the real world.
Chapter 1. Introduction and Review of Statics. 1-1 INTRODUCTION. 1-2 CLASSIFICATION OF FORCES. 1-3 EQUILIBRIUM OF A RIGID BODY. 1-4 EQUILIBRIUM OF A DEFORMABLE BODY. 1-5 INTERNAL FORCES. SUMMARY. Chapter 2. Analysis of Stress: Concepts and Definitions. 2-1 INTRODUCTION. 2-2
NORMAL
STRESS UNDER AXIAL LOADING. 2-3 SHEARING STRESS IN CONNECTIONS. 2-4 BEARING STRESS. 2-5 UNITS OF STRESS. 2-6 STRESSES ON AN INCLINED PLANE IN AN AXIALLY LOADED MEMBER. 2-7 STRESS AT A
GENERAL
POINT
IN
AN ARBITRARILY LOADED MEMBER. 2-8 TWO-DIMENSIONAL OR PLANE STRESS. 2-9 THE STRESS TRANSFORMATION EQUATIONS FOR PLANE STRESS. 2-10 PRINCIPAL STRESSES AND MAXIMUM SHEARING STRESS—PLANE STRESS. 2-11 MOHR'S CIRCLE FOR PLANE STRESS. 2-12 GENERAL STATE OF STRESS AT A POINT. SUMMARY. Chapter 3. Analysis of Strain: Concepts and Definitions. 3-1 INTRODUCTION. 3-2 DISPLACEMENT, DEFORMATION, AND STRAIN. 3-3 THE STATE OF
STRAIN
AT A POINT. 3-4 THE STRAIN TRANSFORMATION EQUATIONS FOR PLANE STRAIN. 3-5 PRINCIPAL STRAINS AND MAXIMUM SHEAR STRAIN. 3-6 MOHR'S CIRCLE FOR PLANE STRAIN. 3-7 STRAIN MEASUREMENT AND ROSETTE ANALYSIS. SUMMARY. Chapter 4. Material Properties and Stress-Strain Relationships. 4-1 INTRODUCTION. 4-2 STRESS-STRAIN DIAGRAMS. 4-3 GENERALIZED HOOKE'S LAW. 4-4 THERMAL STRAIN. 4-5 STRESS-STRAIN EQUATIONS FOR ORTHOTROPIC MATERIALS. SUMMARY. Chapter 5. Axial Loading Applications and Pressure Vessels. 5-1 INTRODUCTION. 5-2 DEFORMATION OF AXIALLY LOADED MEMBERS. 5-3 DEFORMATIONS IN A SYSTEM OF AXIALLY LOADED BARS. 5-4 STATICALLY INDETERMINATE AXIALLY LOADED MEMBERS. 5-5 THERMAL EFFECTS. 5-6 STRESS CONCENTRATIONS. 5-7 INELASTIC BEHAVIOR OF AXIALLY LOADED MEMBERS. 5-8 THIN-WALLED PRESSURE VESSELS. 5-9 COMBINED EFFECTS—AXIAL AND PRESSURE LOADS. 5-10 THICK-WALLED CYLINDRICAL PRESSURE VESSELS. 5-11 DESIGN. SUMMARY. Chapter 6. Torsional Loading of Shafts. 6-1 INTRODUCTION. 6-2 TORSIONAL SHEARING STRAIN. 6-3 TORSIONAL SHEARING STRESS—THE ELASTIC TORSION FORMULA. 6-4 TORSIONAL DISPLACEMENTS. 6-5 STRESSES ON OBLIQUE PLANES. 6-6 POWER TRANSMISSION. 6-7 STATICALLY INDETERMINATE MEMBERS. 6-8 COMBINED LOADING—AXIAL, TORSIONAL, AND PRESSURE VESSEL. 6-9 STRESS CONCENTRATIONS IN CIRCULAR SHAFTS UNDER TORSIONAL LOADINGS. 6-10 INELASTIC BEHAVIOR OF TORSIONAL MEMBERS. 6-11 TORSION OF NONCIRCULAR SECTIONS. 6-12 TORSION OF THIN-WALLED TUBES—SHEAR FLOW. 6-13 DESIGN PROBLEMS. SUMMARY. Chapter 7. Flexural Loading: Stresses in Beams. 7-1 INTRODUCTION. 7-2 FLEXURAL STRAINS. 7-3 FLEXURAL STRESSES. 7-4 THE ELASTIC FLEXURE FORMULA. 7-5 SHEAR FORCES AND BENDING MOMENTS IN BEAMS. 7-6 LOAD, SHEAR FORCE, AND BENDING MOMENT RELATIONSHIPS. 7-7 SHEARING STRESSES IN BEAMS. 7-8 PRINCIPAL STRESSES IN FLEXURAL MEMBERS. 7-9 FLEXURAL STRESSES—UNSYMMETRICAL BENDING. 7-10 STRESS CONCENTRATIONS UNDER FLEXURAL LOADINGS. 7-11 INELASTIC BEHAVIOR OF FLEXURAL MEMBERS. 7-12 SHEARING STRESSES IN THIN-WALLED OPEN SECTIONS—SHEAR CENTER. 7-13 FLEXURAL STRESSES IN BEAMS OF TWO MATERIALS. 7-14 FLEXURAL STRESSES IN REINFORCEDCONCRETE BEAMS. 7-15 FLEXURAL STRESSES IN CURVED BEAMS. 7-16 COMBINED LOADING: AXIAL, PRESSURE, FLEXURAL, AND TORSIONAL. 7-17 DESIGN PROBLEMS. SUMMARY. Chapter 8. Flexural Loading: Beam Deflections. 8-1 INTRODUCTION. 8-2 THE DIFFERENTIAL EQUATION OF THE ELASTIC CURVE. 8-3 DEFLECTION BY INTEGRATION. 8-4 DEFLECTIONS BY INTEGRATION OF SHEAR FORCE OR LOAD EQUATIONS. 8-5 SINGULARITY FUNCTIONS. 8-6 DEFLECTIONS BY SUPERPOSITION. 8-7 DEFLECTIONS DUE TO SHEARING STRESS. 8-8 DEFLECTIONS BY ENERGY METHODS—CASTIGLIANO'S THEOREM. 8-9 STATICALLY INDETERMINATE BEAMS. 8-10 DESIGN PROBLEMS. SUMMARY. Chapter 9. Columns. 9-1 INTRODUCTION. 9-2 BUCKLING OF LONG, STRAIGHT COLUMNS. 9-3 EFFECTS OF DIFFERENT IDEALIZED END CONDITIONS. 9-4 EMPIRICAL COLUMN FORMULAS—CENTRIC LOADING. 9-5 ECCENTRICALLY LOADED COLUMNS. 9-6 DESIGN PROBLEMS. SUMMARY. Chapter 10. Energy Methods and Theories of Failure. 10-1 INTRODUCTION. PART A: ENERGY METHODS. 10-2 STRAIN ENERGY. 10-3 ELASTIC STRAIN ENERGY FOR VARIOUS LOADS. 10-4 IMPACT LOADING. PART B: THEORIES OF FAILURE FOR STATIC LOADING. 10-5 INTRODUCTION. 10-6 FAILURE THEORIES FOR DUCTILE MATERIALS. 10-7 FAILURE THEORIES FOR BRITTLE MATERIALS. SUMMARY. Appendices. A. SECOND MOMENTS OF AREA. B. TABLES OF PROPERTIES. Answers.  (Available online at the Wiley website
www.wiley.com
). Index.
Many new examples and homework problems added throughout the text

Consistent sign convention for internal forces established in chapter 1 and followed throughout the text.

Expanded and improved discussion of the stress element (chapter 2)

New Sections on Combined Loading in Chapters 5, 6, and 7.

Online tutorials, animations, and activities accompany most chapters.  Developed by Tim Philpot (Univ of Missouri-Rolla), MecMovies, winner of the Premier Award for Excellence in Engineering Education Software, provides students visual support, content explanations, and activities involving both visualization and problem solving.  References to MecMovies are included in the margins of the text, and a new class of problems, MecMovie Activities and Problems, accompany most end-of-section exercises. 
Early introduction to Mohr?s Circle (Chapter 4) allows for earlier introduction of realistic problems, including those involving combined loadings.  By introducing Mohr?s Circle early and using it in the following chapters, this text helps students practice using this difficult concept throughout the course rather than leaving in until the end. 
Large number of realistic problems, divided into Introductory, Intermediate, and Challenging problems.
End-of-chapter Review Problems help students apply concepts from the entire chapter instead of one individual section. 
Design sections included with most chapters.