Mechanisms and Biological Significance of Pulsatile Hormone Secretion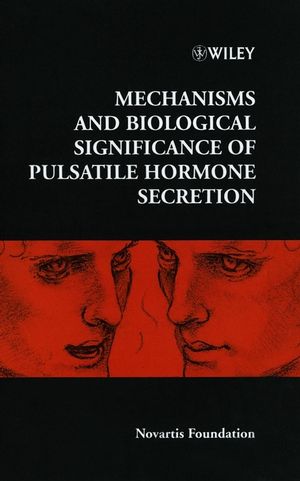 Mechanisms and Biological Significance of Pulsatile Hormone Secretion
ISBN: 978-0-470-87079-2
Apr 2008
280 pages
Description
This exciting book brings together an international and interdisciplinary group of experts to discuss the importance of pulsatile signalling in the induction of biological responses. Coverage includes the basic mechanisms involved in hormone pulsatility, the significance of pulsatility in normal and disease conditions, the relevance of circadian rhythms, changes with ageing, and detailed consideration of specific peptide hormone systems. This book includes contributions from professionals working in both basic and clinical research and reveals much new and exciting work in this area and promises new research directions.
Introduction (J. Veldhuis).

Rhythmic Transcription: The Molecular Basis of Oscillatory Melatonin Synthesis (N. Foulkes, et al.).

The Frequency Encoding of Pulsatility (A. Goldbeter, et al.).

Timing-Dependent Modulation of Insulin Mitogenic Versus Metabolic Signalling (P. De Meyts & R. Shymko).

Growth Hormone Pulse-Activated STAT5 Signalling: A Unique Regulatory Mechanism Governing Sexual
Dimorphism of Liver Gene Expression (D. Waxman).

Orderliness of Hormone Release (S. Pincus).

Prediction and Significance of the Temporal Pattern of Hormone Secretion in Disease States (G. Brabant & K.
Prank).

Therapeutic Implications of Circadian Rhythms in Cancer Patients (F. Lévi).

Pathophysiology of Human Circadian Rhythms (G. Copinschi, et al.).

Nature of Altered Pulsatile Hormone Release and Neuroendocrine Network Signalling in Human Ageing: Clinical
Studies of the Somatotropic, Gonadotropic, Corticotropic and Insulin Axes (J. Veldhuis).

Pulsatile Insulin Secretion (P. Butler).

Control of Growth Hormone (GH) release by GH Secretagogues (I. Robinson).

Pulsatile Parathyroid Hormone Secretion in Health and Disease (F. Schaefer).

Significance of Pulsatility in the HPA Axis (S. Lightman, et al.).

Closing Remarks (J. Veldhuis).

Indexes.