Media, Society, World: Social Theory and Digital Media Practice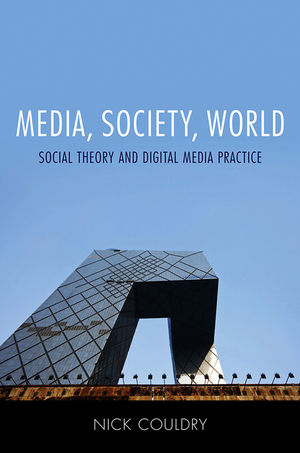 Media, Society, World: Social Theory and Digital Media Practice
ISBN: 978-0-745-63920-8 November 2012 Polity 242 Pages
Download Product Flyer
Download Product Flyer
Download Product Flyer is to download PDF in new tab. This is a dummy description. Download Product Flyer is to download PDF in new tab. This is a dummy description. Download Product Flyer is to download PDF in new tab. This is a dummy description. Download Product Flyer is to download PDF in new tab. This is a dummy description.
Description
Media are fundamental to our sense of living in a social world. Since the beginning of modernity, media have transformed the scale on which we act as social beings. And now in the era of digital media, media themselves are being transformed as platforms, content, and producers multiply.

Yet the implications of social theory for understanding media and of media for rethinking social theory have been neglected; never before has it been more important to understand those implications. This book takes on this challenge.

Drawing on Couldry's fifteen years of work on media and social theory, this book explores how questions of power and ritual, capital and social order, and the conduct of political struggle, professional competition, and everyday life, are all transformed by today's complex combinations of traditional and 'new' media. In the concluding chapters Couldry develops a framework for global comparative research into media and for thinking collectively about the ethics and justice of our lives with media. The result is a book that is both a major intervention in the field and required reading for all students of media and sociology.
Table of contents
Preface
1. Introduction: Digital Media and Social Theory
2. Media as Practice
3. Media as Ritual and Social Form
4. Media and the Hidden Shaping of the Social
5. Network Society? Networked Politics?
6. Media and the Transformation of Capital and Authority
7. Media Cultures: A World Unfolding
8. Media Ethics, Media Justice
References
Index
Reviews
Winner of the Choice award for Outstanding Academic Title

"In his new and refreshingly ambitious book on media and social theory, Nick Couldry attempts to map out the rough contours of our new media world and give us some direction... The book throughout is marked by an ethical seriousness, and a careful attention to empirical work, and Couldry's ability to handle an amazingly diverse set of sources is truly impressive. All told, it strikes me as an honest accounting of where we stand at the present moment"
New Media & Society

"An excellent summation of current media theory, presented in a manner meant to be accessible for those in the broader field of sociology."
MedieKultur

"A compelling case for the study of media practices as the foundation for a new sociology of digital media culture."
Cultural Studies

"Media, Society, World is comprehensive and current in its coverage - of research, of real-world examples, and of larger pressing questions about new media. The book is empirically and theoretically informed, and surveys both the academic research and historical developments in media in a single work. It is Castells-like in its range and ambition."
John Durham Peters, University of Iowa

"Media keep reframing, de-centring and dis-intermediating one another. A shrinking world offers the startling experience of radically new contiguities. 'Society' is no longer the ultimate explanation once sought by Durkheim. Couldry's portrayal of this unsteady constellation offers a much needed counterpart to the short-lived enthusiasms of technophilic sycophants. His book invites us to confront a basic crucial question. What is it that the media - old and new - allow us to do to each other? What should they permit us to do for each other?"
Daniel Dayan, Institut d'Etudes Politiques, Paris

"In this richly insightful, incisive and thoroughly engaging book, Nick Couldry's original synthesis of social theory, media analysis and subtle observation invites a radical rethink of what it means to live in a media-saturated world."
Sonia Livingstone, London School of Economics and Political Science
Features
Major new contribution to media theory, considering the relationship between media and social theory.
Written by an internationally respected scholar: this book is anticipated in the field.
Pays particular attention to the need to understand digital media in relation to broader issues around society and power.
Draws on a broad range of examples to keep the theory accessible, including reality TV, celebrity culture and the role of media in political uprisings such as the Arab Spring.