Media Scandals: Morality and Desire in the Popular Culture Marketplace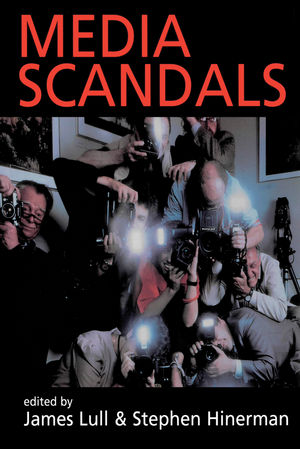 Media Scandals: Morality and Desire in the Popular Culture Marketplace
ISBN: 978-0-745-61886-9 December 1997 Polity 272 Pages
Description
When personal desire goes beyond moral boundaries in the lives of public figures, a media scandal may not be far behind. But media today can make anyone with the right story a subject for scandal. The media routinely invades privacy in search of a scandal, turning secrets into narratives that ignite widespread attention. The media scandal has become a cornerstone of contemporary journalism, and a controversial trend in media performance overall.

This is the first volume to evaluate scandal as a mass-mediated, globalized phenomenon. Top scholars examine how institutions and personalities ranging from politics, religion and big business to TV talkshows, sports, and popular music, become converted into scandalous commodities that drive tabloids, trash TV and "respectable" media too. By exploring how scandals fuel mass media and popular culture, this timely book will stimulate much discussion about this fascinating subject.

This will be essential reading for students and scholars in media studies, cultural studies, journalism/mass communication, communication studies and sociology.
Table of contents
Editors.
List of Contributors.
1. The Search for Scandal: James Lull and Stephen Hinerman.
2. Scandal and Social Theory: John B. Thompson.
3."And Besides, the Wench is Dead": Media Scandals and the Globalization of Communication: John Tomlinson.
4. Anxiety, Desire, and Conflict in the American Racial Imagination: Herman Gray.
5. What a Story! Understanding the Audience for Scandal: S. Elizabeth Bird.
6. Character, Celebrity, and Sexual Innuendo in the Mass-Mediated Presidency: Bruce E. Gronbeck.
7. (Don't) Leave Me Alone: Tabloid Narrative and the Michael Jackson Child Abuse Scandal: Stephen Hinerman.
8. Producing Trash, Class, and the Money Shot: A Behind the Scenes Account of Daytime TV Talkshows: Laura Grindstaff.
9. Apollo Undone: The Sports Scandal: David Rowe.
10. Church, Media, and Scandal: Paul A. Soukup.
11. Pushin' it to the Limit: Scandals and Pop Music: Javier Santiago-Lucerna.
Index.
Reviews
"An impressive array of international authors examines "mediated scandals" in a variety of contexts, including the political, the sporting and the religious, and across a number of media forms such as the talk-show, the tabloid and the pop song. This volume should feed, and fuel, the escalating debates about the shifting balance between the "private" and the "public", the demise of traditional centres of moral value and the complex roles that media play in shaping our ethical universe."
Professor Annabelle Sreberny-Mohammadi, Centre for the Mass Communication Research, University of Leicester
"Perceptive." The Independent
"This is a book to be recommended. It is an interesting collection of essays bringing a variety of disciplinary perspectives, from both Britain and the United States, to bear on the question of scandal." The Times Higher Education Supplement
"The right book at the right time ... an important collection of essays." European Journal of Cultural Studies
What's New
First systematic evaluation of the significance of scandal in media and popular culture.