Media Training 101: A Guide to Meeting the Press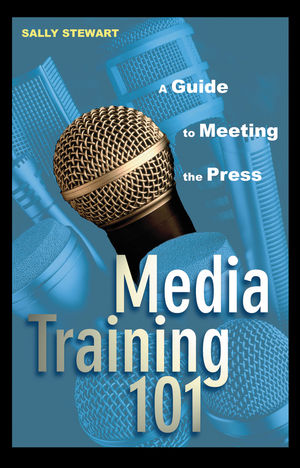 Media Training 101: A Guide to Meeting the Press
ISBN: 978-0-471-27155-0 September 2003 256 Pages
Description
Written by a seasoned journalist and public relations professional, Media Training 101 is your essential guide to handling the news media. A former USA Today reporter and consultant to major companies, Sally Stewart leads you through every step in developing a communications blueprint and a strategic public relations plan to support it. She shows you how to communicate effectively with the media in any given circumstance and how to control the way your company is portrayed in the media. Each chapter includes vignettes, anecdotes, and real-life case studies that help you know what to expect.
PREFACE.
INTRODUCTION.
PART ONE: Understanding the Media.
CHAPTER 1: Foundational Rules for Media Success.
CHAPTER 2: How Journalists Think and Behave.
CHAPTER 3: Responding to Journalists.
CHAPTER 4: What Is News?
PART TWO: Practice Facing the Media.
CHAPTER 5: Key Message Point Workshop 65
CHAPTER 6: Lethal Mistakes: The Dirty Dozen 73
CHAPTER 7: Playing the Interview Game and Winning.
CHAPTER 8: Putting the Organic Keyword Method to Work.
CHAPTER 9: Key Message Point Practice Questions.
PART THREE: Giving a Great Interview.
CHAPTER 10: Interviews: What Is What and Who Is Who.
CHAPTER 11: Things You Should Never Say to a Reporter.
CHAPTER 12: When Things Go Wrong.
CHAPTER 13: Dress for Media Success.
PART FOUR: Implementing Media Training on the Fly.
CHAPTER 14: When the Media Just Shows Up.
CHAPTER 15: Crisis Control.
CHAPTER 16: How to Write and Review a Press Release.
CHAPTER 17: How to Pitch Your Company's Story.
CHAPTER 18: How to Hire PR That Works.
CHAPTER 19: How to Create a Stellar Press Kit.
CHAPTER 20: Media Training and the World Wide Web.
CHAPTER 21: PR Lessons from Law School.
CONCLUSION.
GLOSSARY.
ACKNOWLEDGMENTS.
INDEX.
ABOUT THE AUTHOR.