Media and Cultural Studies: Keyworks, Revised Edition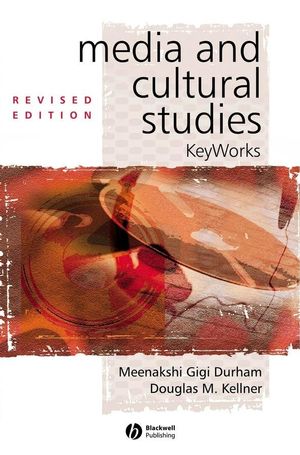 Media and Cultural Studies: Keyworks, Revised Edition
ISBN: 978-1-405-15030-9
Feb 2009, Wiley-Blackwell
800 pages
Description
Bringing together a range of core texts into one volume, this acclaimed anthology offers the definitive resource in culture, media, and communication.

A fully revised new edition of the bestselling anthology in this dynamic and multidisciplinary field
New contributions include essays from Althusser through to Henry Jenkins, and a completely new section on Globalization and Social Movements
Retains important emphasis on the giant thinkers and "makers" of the field: Gramsci on hegemony; Althusser on ideology; Horkheimer and Adorno on the culture industry; Raymond Williams on Marxist cultural theory; Habermas on the public sphere; McLuhan on media; Chomsky on propaganda; hooks and Mulvey on the subjects of visual pleasure and oppositional gazes
Features a substantial critical introduction, short section introductions and full bibliographic citations
Preface to the Revised Edition.
Adventures in Media and Culture Studies: Introducing the KeyWorks (Douglas M. Kellner and Meenakshi Gigi Durham).
Part I: Culture, Ideology and Hegemony.
Introduction to Part I.
1 The Ruling Class and the Ruling Ideas (Karl Marx and Friedrich Engels).
2 (i) History of the Subaltern Classes; (ii) The Concept of "Ideology"; Cultural Themes: Ideological Material (Antonio Gramsci).
3 The Work of Art in the Age of Mechanical Reproduction (Walter Benjamin).
4 The Culture Industry: Enlightenment as Mass Deception (Max Horkheimer and Theodor W. Adorno).
5 The Public Sphere: An Encyclopedia Article (Jürgen Habermas).
6 Ideology and Ideological State Apparatuses (Notes Towards an Investigation (Louis Althusser).
Part II: Social Life and Cultural Studies.
Introduction to Part II.
7 (i) Operation Margarine; (ii) Myth Today (Roland Barthes).
8 The Medium is the Message (Marshall McLuhan).
9 The Commodity as Spectacle (Guy Debord).
10 Introduction: Instructions on How to Become a General in the Disneyland Club (Ariel Dorfman and Armand Mattelart).
11 Base and Superstructure in Marxist Cultural Theory (Raymond Williams).
12 (i) From Culture to Hegemony; (ii) Subculture: The Unnatural Break (Dick Hebdige).
13 Encoding / Decoding (Stuart Hall).
14 On the Politics of Empirical Audience Research (Ien Ang).
Part III: Political Economy.
Introduction to Part III.
15 Contribution to a Political Economy of Mass-Communication (Nicholas Garnham).
16 On the Audience Commodity and its Work (Dallas W. Smythe).
17 A Propaganda Model (Edward Herman and Noam Chomsky).
18 Not Yet the Post-Imperialist Era (Herbert I. Schiller).
19 Gendering the Commodity Audience: Critical Media Research, Feminism, and Political Economy (Eileen R. Meehan).
20 (i) Introduction; (ii) The Aristocracy of Culture (Pierre Bourdieu).
21 On Television (Pierre Bourdieu).
Part IV: The Politics of Representation.
Introduction to Part IV.
22 Visual Pleasure and Narrative Cinema (Laura Mulvey).
23 Stereotyping (Richard Dyer).
24 Eating the Other: Desire and Resistance (bell hooks).
25 British Cultural Studies and the Pitfalls of Identity (Paul Gilroy).
26 Under Western Eyes: Feminist Scholarship and Colonial Discourses (Chandra Talpade Mohanty).
27 Hybrid Cultures, Oblique Powers (Néstor García Canclini).
Part V: The Postmodern Turn and New Media.
Introduction to Part V.
28 The Precession of Simulacra (Jean Baudrillard).
29 Postmodernism, or the Cultural Logic of Late Capitalism (Fredric Jameson).
30 Feminism, Postmodernism and the "Real Me" (Angela McRobbie).
31 Postmondern Virtualities (Mark Poster).
32 Quentin Tarantinoâ??s Star Wars?: Digital Cinema, Media Convergence, and Participatory Culture (Henry Jenkins).
Part VI: Globalization and Social Movements.
Introduction to Part VI.
33 Disjuncture and the Difference in the Global Culture Economy (Arjun Appadurai).
34 The Global and the Local in International Communications (Annabelle Sreberny).
35 The Process: From Nationalisms to Transnationalisms(Jésus Martín-Barbero).
36 Globalization as Hybridization (Jen Nederveen Pieterse).
37 (Re)Asserting National Television and National Identity Against The Gobal, Regional, and Local Levels of World Television (Joseph Straubhaar).
38 Oppositional Politics and the Internet: A Critical / Reconstructive Approach (Richard Kahn and Douglas M. Kellner).
Acknowledgements.
Index.
"This updated and expanded edition provides a useful interpretive framework and remains an indispensable one-volume resource for understanding the intellectual range of cultural studies and its function in explanations of ordinary practice."
Hanno Hardt, University of Ljubljana
"Durham and Kellner bring together an intellectually invigorating assortment of material, framed by a lucid and exceedingly useful opening essay which shows how the work collected in this volume can serve the goal of cultural criticism and interpretation." Theodore L. Glasser, Stanford University

"Selections cover a spectrum of approaches to cultural studies... thematic divisions are preceded by introductions and include articles reflecting a breadth of historical context and movement. Suitable for most university courses in cultural studies." Reference and Research Book News (of the first edition)

"This work will prove very useful for academic courses in media and cultural studies. It contains a range of extracts and essays which are - genuinely - key works in these fields. The book will find its easy way on to shelves in academic and college libraries around the world, and those of any serious student or teacher covering this ground. The editors have done a very competent job, and come with no little personal recommendation. A very useful and reasonably priced way of accessing a wide range of texts without which, arguably, media and cultural studies could not properly work." Reference Reviews (of the first edition)
A fully revised new edition of the bestselling anthology in this dynamic and multidisciplinary field
Provides a timely update on topics including race, new media, and globalization
New contributions include essays from Althusser through to Henry Jenkins, and a completely new section on Globalization and Social Movements
Retains important emphasis on the giant thinkers and "makers" of the field: Gramsci on hegemony; Althusser on ideology; Horkheimer and Adorno on the culture industry; Raymond Williams on Marxist cultural theory; Habermas on the public sphere; McLuhan on media; Chomsky on propaganda; hooks and Mulvey on the subjects of visual pleasure and oppositional gazes
Features a substantial critical introduction, short section introductions and full bibliographic citations