Media and Modernity: A Social Theory of the Media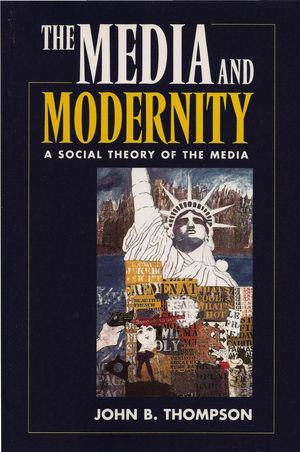 Media and Modernity: A Social Theory of the Media
ISBN: 978-0-745-65674-8 July 2013 Polity 322 Pages
Description
This wide-ranging and innovative book develops an original theory of the media and their impact on the modern world, from the emergence of printing to the most recent developments in the media industries.
Table of contents
Preface.
Introduction.
1. Communication and Social Context.
2. The Media and the Development of Modern Societies.
3. The Rise of Mediated Interaction.
4. The Transformation of Visibility.
5. The Globalization of Communication.
6. The Re-mooring of Tradition.
7. Self and Experience in a Mediated World.
8. The Re-invention of Publicness.
Notes.
Index.
Reviews
"This book is comprehensive and magisterial, and at the same time enormously readable. It will undoubtedly become one of the very few definitive texts in the rapidly growing field of media and cultural studies, providing a crucial link to critical theory and to social theory as a whole."
Professor William Outhwaite, University of Sussex
"An extremely powerful and sustained diagnosis of mass media at the turn of the twenty-first century, a diagnosis that is neither idealizing nor apocalyptic. Thompson's book deserves to become a definitive text and should have a lasting impact in the sociology of media and culture." The Australian
"A new book by Thompson in which he compresses and refines his ideas on theorising the media is ... particularly welcome. In this book we have an example of someone writing with tremendous confidence, in self-evident command of both a broad historical sweep and a wide range of relevant studies and theories. With the publication of his book Thompson should move the sociology of mass communication onto a new level of sophistication ... an important publication." Sociology
"The Media and Modernity is refreshingly optimistic in offering a constructive, yet sensible, alternative to the doom and gloom with which the modern media are often regarded. It is impressive in its scope, often insightful in its analysis, and solidly grounded in its arguments, and so makes a valuable contribution to the fields of both media sociology and social theory." British Journal of Sociology
"As an introduction to and an overview of the literature on the interrelations between society, democracy and the media, this book is an invaluable text and may stimulate further reading in more specialist literature." Acta Politica
Features
Theoretically innovative and up-to-date; this book develops an original theory of the media and their impact on the modern world
Wide-ranging in scope, from the emergence of printing in early modern Europe to the most recent developments in the media industries
The book shows how the development of communications media was interwoven with the major institutional transformations which have shaped the modern world.