Medical Anthropology Quarterly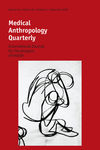 Medical Anthropology Quarterly
Vol 32(4 Issues in 2018 )
Print ISSN: 0745-5194
Online ISSN: 1548-1387
Impact Factor: 1.850
Digital version available through Wiley Online Library
Description
Medical Anthropology Quarterly: International Journal for the Analysis of Health is an international journal published by the Society for Medical Anthropology, a section of the American Anthropological Association. The journal publishes research and theory in all areas of medical anthropology. Its goal is to stimulate development of important theory, methods, and debates in medical anthropology and to explore the links between medical anthropology, the broader field of anthropology, and neighboring fields in the humanities, social sciences, and health-related disciplines, including public health and clinical medicine.
MAQ values the full range of theoretical and empirical approaches in contemporary medical anthropology and seeks to bring researchers from diverse perspectives into conversation with one another. We particularly welcome manuscripts grounded in the holistic and cross-cultural perspective that is distinctive of anthropology in general. This perspective encompasses, but is not limited to:
the meaning and experience of sickness, health, and healing
the structural, cultural, and linguistic context of healing practices and access to care
cultural, political, economic, and ecological influences on individual and population health
interactions between cultural, political-economic, and biological dimensions of health and healing
critical analysis of health-related research, politics, and interventions
ethnographic research on medical practice, technology, and knowledge production
global and transnational dimensions of health, health care, and development
applications of anthropological theory and methods in health-related practice
MAQ publishes original conceptual and empirical research articles, occasional review articles, and book reviews. Book reviews are solicited by the editors; MAQ does not accept volunteered book reviews.
Manuscripts are reviewed anonymously by two to five external reviewers with relevant expertise, so please prepare your manuscript to facilitate double-blind review. Avoid references to your own work or cite it judiciously and formally without self-reference. Manuscripts submitted to MAQ must not be under simultaneous consideration by any other journal or book publisher, or have been published elsewhere.