Medical Botany: Plants Affecting Human Health, 2nd Edition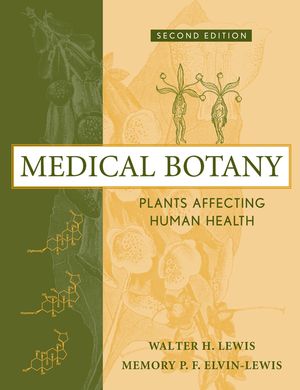 Medical Botany: Plants Affecting Human Health, 2nd Edition
ISBN: 978-0-471-62882-8
Sep 2003
832 pages
Description
Organized by body system and ailment makes it easy to locate appropriate therapies.
Includes background on the physiology of major systems and ailments so readers can understand how and why a pharmaceutical, botanical, or dietary supplement works.
Broad coverage includes green plants, fungi, and microorganisms.
Includes extensive references and citations from both conventional and complimentary-alternative medical systems when natural products or their derivatives are involved.
Proprietary Registered and Trademark Names and Owners.
Preface.
Acknowledgements.
1. Introduction.
2. Complementary and Alternative Medicine.
PART I: INJURIOUS PLANTS.
3. Internal Poisons.
4. Immune System and Cell Modifiers.
5. Allergies.
PART II: REMEDIAL PLANTS.
6. Cancer.
7. Musculoskeletal System.
8. Peripheral Nervous System.
9. Heart and Circulation.
10. Metabolism.
11. Sensory Organs: Eye and Ear.
12. Oral Hygiene.
13. Gastrointestinal Tract.
14. Respiratory System.
15. Urogenital System.
16. Skin.
17. Deterrents: Antibiotics, Antiseptics, Pesticides, and Herbicides.
18. Panaceas, Adaptogens, and Tonics.
PART III: PSYCHOACTIVE PLANTS.
19. Central Nervous System and Psychiatry.
20. Stimulants.
21. Hallucinogens.
22. Depressants.
Appendix A: Outline Classification of Plants.
Appendix B: Bibliography of Traditional and Herbal Medicine and Ethnobotany.
Glossary.
Index.
Richly illustrated and expanded
Addresses the injurious, remedial, and psychoactive properties of thousands of plants, fungi, and microorganisms
Each chapter focuses on a body system and thoroughly discusses how pharmaceuticals, botanicals, and dietary supplements affect its function in both normal and disease states.
""...an extremely good read...a productive mine of information...laced liberally with humour, human observation and practical examples..."" (Plant Talk, May 2004)
Originally published in 1977, Medical Botany has sold over 20,000 copies in its paperback edition alone. Completely updated with current practice and research findings. Treatments that were popular at the time of the first edition have been reconsidered in light of current research. Includes data from the Commission E Monograph which was published by the German government in the early 1990's as the first effort to scientifically study and standardize the use of medical plants.