Medical Disorders in Pregnancy: A Manual for Midwives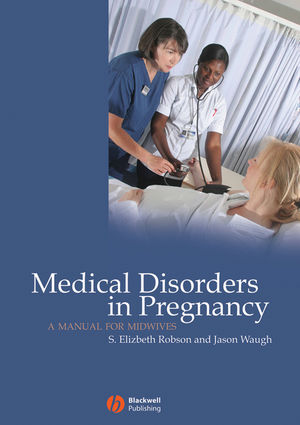 Medical Disorders in Pregnancy: A Manual for Midwives
ISBN: 978-1-118-71228-3 May 2013 Wiley-Blackwell 416 Pages
Description
The need for joint medical and midwifery care is stressed in the latest CEMACH report, with a recommendation that contemporary midwifery education prepares midwives for problems in pregnancy and adverse pregnancy outcome. Pre-conception care for women with medical disorders has also been stressed.
Medical Disorders in Pregnancy is one of the first texts written specifically for midwives that provides an outline of common medical disorders that may be affected by pregnancy or which may cause pregnancy complications. For ease of use, all conditions are presented on two page templates, and each addresses: An explanation of the condition; Standard 'Non-pregnancy' treatment; Pre-conception care; Antenatal care; Intrapartum care, and Postnatal care. The management, treatment and care by both doctors and midwives are provided to allow a mutual understanding of each others roles and responsibilities.
Table of contents
1. Midwifery Care and Medical Disorders.
2. Skin Disorders.
3. Hypertensive Disorders.
4. Heart Disease.
5. Respiratory Disorders.
6. Renal Tract Disorders.
7. Endocrine Disorders.
8. Neurological Disorders.
9. Musculo-skeletal Disorders.
10. Gastro-intestinal Disorders.
11. Auto-immune Disorders.
12. Infectious Conditions.
13. Metabolic Disorders.
14. Haematological Disorders.
15. Thrombo-embolic Disorders.
16. Addictive Disorders.
17. Psychiatric conditions of pregnancy.
18. Neoplasia.
References.
Appendices
Reviews
"The important facts are laid out concisely, primarily focusing on management and using evidence-based guidelines for best midwifery practice." (
The Obstetrician & Gynaecologist
, 2010)
"A strength of this book is that it has an unashamedly simple at-a-glance format, easy to get used to. The chapters are based on the traditional systems approach with sections dealing with disorders and diseases...the important facts are laid out concisely, primarily focusing on management, using evidence based guidelines for best midwifery practice." (
RCGP Journal
, April 2010)
"This is an excellent book for use in the clinical arena by nurse midwives, nurses, and other healthcare practitioners caring for women with preexisting medical problems." (Doody's Reviews, June 2009)
"The editors highlight recognition of deviation from the normal as an essential component of midwifery and have provided a manual that will be appreciated by midwives in all areas of practice and will be of great value to students studying high-risk modules." (Midwives, April/May 2009)
"This book is a must have for any midwife, particularly those working in the community, clinics and in high-risk areas.... This book is an extremely useful reference tool. For students midwives it is an essential read when undertaking the 'complications' module of their course." (MIDIRS Midwifery Digest, January 2009)
I am currently a final year student midwife and can confidently say that this book has a simple with easy to read definitions of each disorder. It has clear details on the management in pregnancy, labour and following birth from a midwifery perspective - a must for any student midwife and a fantastic reference for all qualified midwives. (5* Amazon Review )
Features
· A comprehensive reference-style text enabling midwives to look up information quickly and easily
· Clearly outlines the main existing and pre-existing conditions which women may experience during pregnancy

· Explores possible complications, outlines recommended treatment and emphasises specific midwifery care.