Medicines Management in Mental Health Care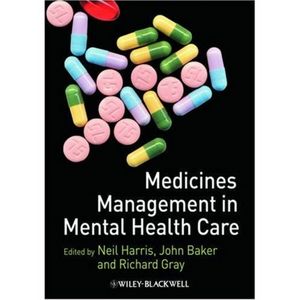 Medicines Management in Mental Health Care
ISBN: 978-1-444-31615-5 October 2009 Wiley-Blackwell 272 Pages
Description
Medicines are the most common form of treatment for those with mental health problems worldwide. Medicines Management in Mental Health Care is the first detailed evidence-based medicines management text for mental health practitioners in the UK.

Medicines Management in Mental Health Care is divided into two parts. Part one provides mental health nurses and other mental health workers with a detailed understanding of the evidence-base for medicines management covering subjects including psychotropic medication and co-morbidity. Part two addresses the practical implications for clinical practice and provides vital guidance on prescribing and medicines management, working with service users, treatment adherence, evaluation skills and problem solving as well as specific advice relating to the realities of practice.

Medicines Management in Mental Health Care is an essential resource for mental health nurses and mental health practitioners.

• Discusses evidence-based interventions
• Outlines the main types of medicines offered
• Discusses co-morbidity
• Outlines a model of medicines management
• Discusses good prescribing practice
Part one: An evidence base for medicines management.
1 Introduction and setting the scene.
2 Psychotropic medication.
3 Co-morbidity.
Part two: Medicines management in clinical practice.
4 Non-medical prescribing and medicines management policies.
5 Recovery and medicines.
6 Treatment adherence.
7 The role of the prescriber in medicines management.
8 The role of the pharmacist in medicines management.
9 Engagement and working collaboratively with service users.
10 Evaluating treatment.
11 A medication management toolkit.
12 Problem solving.
13 Inpatient medication management.
"Present[s] a model of medical management that emphasizes the themes of recovery in self-efficacy terms, and practitioner collaboration (with the specialist pharmacist part of the team) and empowerment through education." (Book News, December 2009)
Discusses evidence based interventions

Outlines the main types of medication offered

Discusses co-morbidity

Outlines a model of medication management

Discusses good prescribing practice