Medieval Heresy: Popular Movements from the Gregorian Reform to the Reformation, 3rd Edition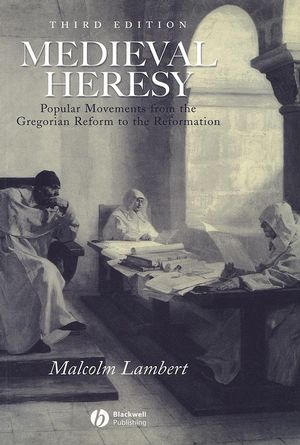 Medieval Heresy: Popular Movements from the Gregorian Reform to the Reformation, 3rd Edition
ISBN: 978-0-631-22276-7 August 2002 Wiley-Blackwell 504 Pages
Description
For the third edition, this comprehensive history of the great heretical movements of the Middle Ages has been updated to take account of recent research in the field.
Table of contents
Part I: The Beginnings.
1. The Problem with Heresy.
2. The Revival of Heresy in the West: The Eleventh Century.
Part II: The Twelfth Century.
3. Orthodox Reform and Heresy.
4. Heretical Preachers and the Rise of Catharism.
5. The Waldensians and the Deepening Crisis.
Part III: Heresy and the Church.
6. The Counter-Attack: Innocent III to Innocent IV.
7. The Cathars.
8. The Waldensians After the Conference of Bergamo.
9. Tension and Insecurity: Gregory X to John XXII.
10. Inquisition and Abuse.
11. Spiritual Franciscans and Heretical Joachimites.
Part IV: Evangelical Heresy in the Late Middle Ages.
12. Church and Society: Benedict XII to Eugenius IV.
13. John Wycliff.
14. The English Lollards.
15. The Bohemian Reform Movement.
16. Politics and Hussitism, 1409-1419.
17. Success and Failure: From the Defenestration to the Agreement at Jihlava.
18. The Unitas Fratum and the Development of Confessions.
19. Medieval Heresy and the Reformation.
20. Heresy and Reform.
Features


New edition of this highly successful history of heretical movements.


Adds comment and summary on new work on the eleventh-century emergence of heresy.


Remodels parts of the chapters on the Cathars, the Waldensians after 1218, and the Lollards.


Updates the suggestions for introductory and further reading.