Meeting the Fox: The Allied Invasion of Africa, from Operation Torch to Kasserine Pass to Victory in Tunisia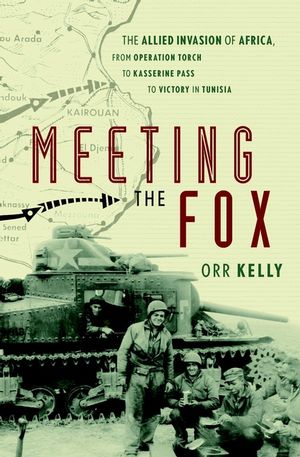 Meeting the Fox: The Allied Invasion of Africa, from Operation Torch to Kasserine Pass to Victory in Tunisia
ISBN: 978-0-471-41429-2
Apr 2002
400 pages
Description
Praise for Meeting the Fox

""Orr Kelly has dramatically brought to life the desert war by masterfully weaving the view of higher headquarters with the pathos of the foxhole. Meeting the Fox takes the reader on a gripping journey from North Africa's beaches and drop zones, the practically forgotten disaster at Sidi bou Zid, to the final battles in Tunisia. Meeting the Fox is destined to rank among the best narrative histories on the American experience in North Africa.""
-- Patrick O'Donnell, author of Beyond Valor and Into the Rising Sun

""An almost bullet-by-bullet, shell-by-shell account, Meeting the Fox offers riveting personal experiences from those who fought the Axis forces during the desperate campaign for North Africa.""
--Gerald Astor, historian and author of A Blood-Dimmed Tide and The Greatest War, Vols. I--III

As their unproven commanders struggled to match wits with the wily Desert Fox, 100,000 poorly equipped, undertrained, and inexperienced GIs battled their way across North Africa. Hobbled by inferior weaponry and an inexperienced officer corps, these green but courageous citizen soldiers clashed head-on with the fabled German Afrika Korps and its legendary commander, Erwin Rommel. Meeting the Fox tells the unforgettable tale of the men who transformed themselves, in the heat of battle, from a poorly organized army of convenience into a relentless and unstoppable fighting force.
Maps and Illustrations.

Acknowledgments.

Introduction: Visit to a Forgotten Cemetery.

PART ONE: THE LONG WAY TO BERLIN.

The Longest Reach.

""Things Must Not Be Going So Good.""

Oran: Seize the Airfields.

Landing at Algiers.

The Axis Reacts.

First Blood.

Seizing the High Ground.

Fight for the Air.

PART TWO: MEETING THE FOX.

Is Anyone in Charge Up There?

On-The-Job Training--the Hard Way.

A Spring Breeze from the East.

A Valentine's Day Surprise.

First Armored to the Rescue.

""Men Just Running--It Was Panic!""

Rommel Takes Over.

Changing of the Guard.

The Battle of El Guettar.

PART THREE: VICTORY IN TUNISIA.

Ordeal at Fondouk Pass.

Gaining the Upper Hand in the Air.

A Hill Called ""609"".

Victory in North Africa.

A Note on Sources.

Bibliography.

Index.