Membrane Operations: Innovative Separations and Transformations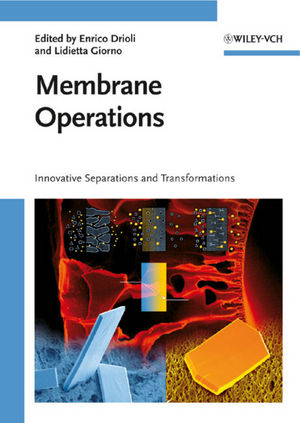 Membrane Operations: Innovative Separations and Transformations
ISBN: 978-3-527-62677-9 July 2009 578 Pages
Description
The only book dedicated to membrane technology, covering all the different innovative membrane areas from separation to contactors, and regarding them as unit operations in process engineering.
The specific potential of these advanced new operations is analyzed by different experts in the field, with regard to their basic aspects and in particular to their potential application for a sustainable growth and improvement in the quality of life. To this end, much emphasis is placed on the role of membrane engineering as a dominant technology in such areas as water desalination or artificial organs.
The editors are well known and recognized within the community, while the active experience of the authors provides a highly practical, industrially relevant approach to the subject. Topics considered in detail include membranes in fuel cells, membranes in MEMS and OLEDS, as well as integrated membrane systems.
Introduction
MOLECULAR SEPARATION
Molecular Modeling, A Tool fort he Knowledge-Based Design of Polymer-Based Membrane Materials
Polymeric Membranes for Molecular Separations
Fundamentals of Membrane Solvent Separation and Pervaporation
Fundamentals of Membrane Gas Separation
Fundamentals in Electromembrane Separation Processes
Fouling in Membrane Processes
Energy and Environmental Issues and Impacts of Membranes in Industry
Membrane Gas-Separation: Applications
CO2 Capture with MembraneSystems
Seawater and Brackish-Water Desalination with Membrane Operations
Developments in Membrane Science for Downstream Processing
Integrated Membrane Processes
TRANSFORMATION
Fundamental of Chemical Membrane Reactors
Mathematical Modeling of Biochemical Membrane Reactors
Photocatalytic Membrane Reactors in the Conversion or Degradation of Organic Compounds
Wastewater Treatment by Membrane Bioreactors
Biochemical Membrane Reactors in Industrial Processes
Biomedical Membrane Extracorporeal Devices
Membranes in Regenerative Medicine and Tissue Engineering
MEMBRANE CONTACTORS
Basics in Membrane Contacts
Membrane Emulsification: Principles and Applications
Membrane Contactors in Industrial Applications
Extractive Separations in Contactors with One and Two Immobilized L/L Interfaces: Applications and Perspectives