Men and Sex: New Psychological Perspectives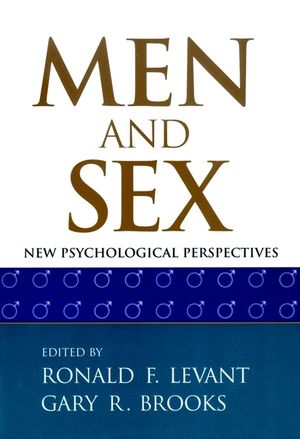 Men and Sex: New Psychological Perspectives
ISBN: 978-0-471-16903-1
Oct 1997
283 pages
Product not available for purchase
Description
"As Fresh as today's headlines, as scholarly as cutting-edge research, as clinically useful as any volume can be, Men and Sex is a well-written compendium that is essential reading for academics and clinicians. It is the last word on this most intriguing and socially relevant subject of men and their sexual desires." --William S. Pollack Director, Center For Men, McLean Hospital/Harvard Medical School Coauthor of In a Time of Fallen Heroes: The Re-creation of Masculinity "A bold and informative book on a topic too long neglected by psychologists and other social scientists." --Lucia Gilbert Professor of Educational Psychology and Director of Women's Studies. University of Texas at Austin "This is a truly important book. Turning conventional psychological wisdom on its head, these authors reveal that what we have long considered 'normal' male sexuality is, actually, a collage of pathologies -- objectifying, nonrelational, aggressive." --Michael Kimmel Professor of Sociology, Suny at Stony Brook Author of Manhood in America: A Cultural History "In this excellent book, Levant and Brooks have taken a courageous and necessary step in exposing the pitfalls for men of nonrelational sex, and offer, in its place, a model of intimate and engaged sexuality. Just as women are learning to embrace their power, men can learn to embrace the nurturant and caring aspects of themselves. Ultimately, both genders will benefit from having a greater range of emotions and behaviors available to them, and their sexual experiences will be more gratifying and complete." --Dorothy W. Cantor Coauthor of Women in Power: The Secrets of Leadership
THEORY.

Nonrelational Sexuality in Men (R. Levant).

The Centerfold Syndrome (G. Brooks).

PROBLEMS.

Appearance Obsession: Women's Reactions to Men's Objectification of Their Bodies (J. Johnston).

Repetitive Infidelity, Womanizing, and Don Juanism (D. Lusterman).

Sex as Commodity: Men and the Sex Industry (W. Stock).

Sexual Harassment and Rape: A View from Higher Education (E. Backman & L. Backman).

Male Gender Socialization and the Perpetration of Sexual Abuse (D. Lisak).

VARIATIONS.

Men's Resolution of Nonrelational Sex Across the Lifespan (G. Good & N. Sherrod).

African American Men and Nonrelational Sex (V. McClean).

Gay Men and Nonrelational Sex (R. Scrivner).

Toward the Reconstruction of Male Sexuality: A Prescription for the Future (G. Brooks & R. Levant).

Index.