Men of Honour: A Social and Cultural History of the Duel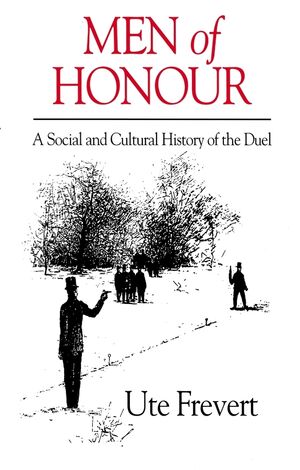 Men of Honour: A Social and Cultural History of the Duel
ISBN: 978-0-745-61197-6 December 1995 Polity 320 Pages
Description
This book provides a wide-ranging and fascinating history of the duel and its significance, from the early modern period to the twentieth century.
Table of contents
Introduction.
1. Between the brawl and the duel of honour: the early modern era.
2. The Enlightenment, public opinion and state policy on duelling.
3. The honour of officers.
4. 'Scholastic' honour and academic duelling.
5. Freedom, equality, masculinity.
6. The demise of duelling: the twentieth century.
Appendices.
Sources and Bibliography.
Notes.
Index.
Reviews
"An impressive historiographical achievement."
Frankfurter Allgemeine Zeitung

"This is a scholarly, imaginative and lively book. Frevert writes extremely perceptively about the contradictions and conflicts of the period." Peter Burke, University of Cambridge
Features
A wide-ranging and engagingly written social history of the duel
Presents a new argument: that the duel didn't die out in the 19th century as was previously thought, but continued until the 1st World War and beyond
A topic of potential media interest; it should be widely reviewed.