Menopause For Dummies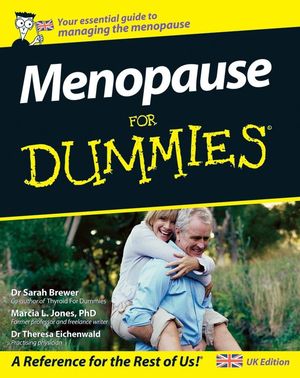 Menopause For Dummies
ISBN: 978-1-119-99824-2 February 2011 368 Pages
Description
Every woman experiences the menopause in different ways, so you need to know what to expect in order to help yourself. This book explains the various stages of the menopause, including the perimenopause, and helps you understand how it can affect your body and your emotions. It evaluates all the options available—including HRT and explains what treatment and lifestyle changes will help you stay healthy and happy. With in-depth coverage of HRT, covering new developments and weighing up the risks and benefits, advice on adopting an holistic approach to managing the symptoms and side effects including conventional medicine, and alternatives, diet and lifestyle changes, Menopause For Dummies will help you make the right decisions and stay in control.
Table of contents
Introduction.
Part I: From A to ZZZZZ: The Basics of Sleep.
Chapter 1: Taking Charge of Your Dream Team.
Chapter 2: Understanding the Importance and Stages of Slumber.
Chapter 3: Personality: A Big Piece of the Puzzle.
Part II: I Have a Dream: Winning Sleep Strategies for Every Age.
Chapter 4: Growing and Changing: Sleep from Birth to 6 Months.
Chapter 5: Getting the Hang of It: Sleep from 6 to 12 Months.
Chapter 6: Baby on the Move: Sleep from 12 to 18 Months.
Chapter 7: The Wake-Up Call: Sleep from 18 Months to 2 Years.
Chapter 8: The Big Tug of War: Sleep from 2 through 3 Years.
Part III: Sleep Decisions that Involve the Whole Family.
Chapter 9: Keeping Baby Nearby? Co-Sleeping with Your Little One.
Chapter 10: Move Over, Darlin'! When a Sibling Enters the Picture.
Chapter 11: Your Dream Team Grows: Preschool, Day Care, and Sitters.
Part IV: Dealing with Special Circumstances.
Chapter 12: Sleep Tips for Families with Premature Babies.
Chapter 13: Sneezes, Sniffles, Aches, and Pains.
Chapter 14: When Life Changes Keep Your Child Awake.
Part V: The Part of Tens.
Chapter 15: Ten Tips for Getting Your Tot to Sleep.
Chapter 16: Ten Pitfalls to Avoid at Sleepytime.
Chapter 17: More than Ten Great Bedtime Stories and Songs.
Appendix: Sleep Logs.
Index.