Mental Health Care, 3rd Edition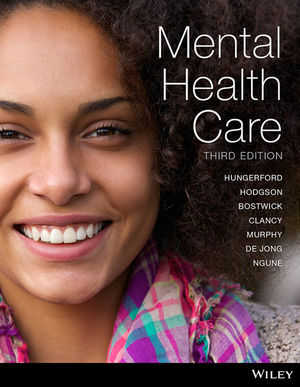 Mental Health Care, 3rd Edition
ISBN: 978-0-730-34461-2
Aug 2017
504 pages
Product not available for purchase
Description
Mental Health Care: An Introduction for Health Professionals in Australia, 3rd Edition covers the challenges that health professionals will face in their everyday roles. This text discusses, in a jargon-free way, how to effectively help those who are struggling with mental health issues in a care setting. Videos with real clinicians and top researchers help bring relevancy to each chapter through engaging storytelling. Interactive capstone activities put the students in a simulated 'real world' scenario where they must apply their learning. There are also scores of local, curated content that show students the importance behind topics covered.
Chapter 1. Mental health care in Australia
Chapter 2. Assessment in the mental health context
Chapter 3. The legal and ethical context of mental health care
Chapter 4. Delivering culturally appropriate mental health care
Chapter 5. Common reactions to stressful situations
Chapter 6. Caring for a person displaying challenging behaviours
Chapter 7. Caring for a person with depression, anxiety or perinatal mental health
Chapter 8. Caring for a person who has self-harmed
Chapter 9. Caring for a person with a serious mental illness
Chapter 10. Caring for a person with a substance use disorder
Chapter 11. Caring for an older person with a mental illness
Chapter 12. Approaches to mental health service delivery
Accessible Content: This new edition comprises insightful and engaging content delivered in concise, digestible chunks to support students' engagement and retention.
Visibility of Progress: When purchased by the institution for all students, WileyPLUS Learning Space provides sophisticated insight into students' participation, engagement and proficiency in the course through real-time, actionable reports.
Trusted Authorship: Know you're getting the best content from a team of leading Mental Health Care experts from throughout Australia.