Mental Health Law for Nurses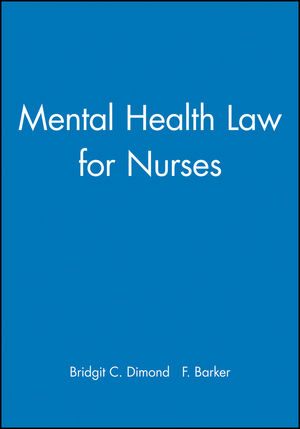 Mental Health Law for Nurses
ISBN: 978-0-632-03989-0 April 1996 Wiley-Blackwell 212 Pages
Description
In the UK, treatment of the mentally ill is governed by two major pieces of legislation: the Mental Health Act (of 1983) and the Code of Practice (S.118), published in 1990 and reviewed periodically by the Secretary of State. Because nurses in any speciality may encounter patients suffering from mental disorder, it is extremely useful that they have an understanding of the legal principles involved. Mental Health Law for Nurses provides such an introduction and practical guide to the law and directives embodied in treatment of persons exhibiting mental disorder. Additionally, for those nurses specialising in direct care of the mentally ill or handicapped, this book provides an easy reference and relevance to their daily practice.
Cannot be combined with any other offers.
Original Price:$184.98
Purchased together:$138.73
save $46.25
Table of contents
Introduction; The Code of Practice and other guidance; Definitions of mental disorder and medical recommendations for admission; Admission to hospital under Part II of the Act; Admission ot hospital under Part III of the Act: mentally disordered offenders; Provision of information to the patient and nearest relative; The nearest relative; Consent to treatment; Appeals against detention; Leave with consent under section 17; Returning the patient to hospital; Entering premises to take a patient; Police powers of arrest; Transfer of patients; Guardianship; The role of the approved social worker and the social worker; Community care; Rectification of documents; The Mental Health Act Managers; The Mental Health Act Commission; Offences under the Act and staff protection against court action by the patient; Conclusion; Glosssary; Table of Cases; Table of Statutes and Statutory Instruments; Appendices
Reviews
"It is a wonder we have managed so long without such a book. It is easy to imagine Mental Health Law for Nurses becoming a standard text if not the standard text on the subject."
Tony Gillam, Nursing Times, 1996
"Mental Health Law for Nurses is well and worthily recommended in this difficult area of care."
William Whitfield, Journal of Advanced Nursing, Vol. 24.
What's New
* provides coverage for community care homes and institutional settings
* includes questions and exercises to encourage debate and discussion
* comprehensive bibliography to enable practitioners to follow up areas of interest
* Includes latest legislation from Mental Health (Patients in the Community Act 1995)
* Dimond is well known for her textbooks helping nurses apply the law to their work