Mental Health and Well-Being in Animals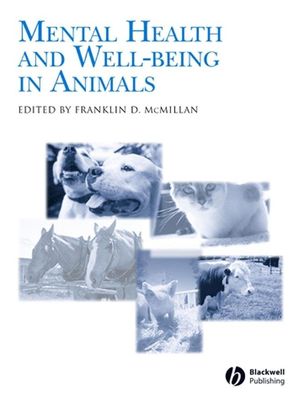 Mental Health and Well-Being in Animals
ISBN: 978-0-470-38472-5
Jun 2008, Wiley-Blackwell
301 pages
Product not available for purchase
Description
The past few decades have seen a virtual explosion of scientific research in the area of cognition, emotions, suffering, and mental states in animals. Studies in the field, laboratory, and clinical medical practice have amassed an overwhelming body of evidence demonstrating that mental well-being is of paramount importance in all aspects of animal care. There is no longer any reasonable doubt among researchers that mental health is of equal importance as physical health and animal well-being.





Recent research convincingly shows that physical health is strongly influenced by mental states, thereby making it clear that effective health care requires attention to the emotional well-being as well as physical. Yet, for its vast importance, mental health in veterinary medicine has to date not been compiled and structured into an organized field or body of knowledge. This information, so critical to the formal establishment of the field of mental health and well-being in animals, remains scattered throughout a wide array of scientific journals.





This book represents the first authoritative reference text bringing together the most up-to-date information in the variety of subjects comprising the field of mental health and well-being in animals.


Bringing together a host of distinguished experts internationally noted in the fields of animal emotion research, animal behavior, cognitive science, and neuroscience, the book represents the first authoritative reference compiling the diverse information on the animal mind and combining the revolutionary advances in the cognitive sciences with the knowledge in veterinary medicine and clinical animal behavior. This book takes a descriptive and proscriptive approach to mental health, mixing the scientific research with practical information with clinical applications for veterinary health professionals to use in practice.
Contributors.
Preface.
Foreword (Roger S. Fouts).
Part I: Foundations of Animal Mental Health and Well-Being.
1. On Understanding Animal Mentation (Bernard E. Rollin).
2. The Question of Animal Emotions: An Ethological Perspective (Marc Bekoff).
3. The Experience of Pleasure in Animals (Michel Cabanac).
4. The Science of Suffering (Marian Stamp Dawkins).
5. Affective-Social Neuroscience Approaches o Understanding Core Emotional Feelings in Animals (Jaak Panksepp).
Part II: Emotional Distress, Suffering, and Mental Illness.
6. Animal Boredom: Understanding the Tedium of Confined Lives (Francoise Wemelsfelder).
7. Stress, Distress, and Emotion: Distinctions and Implications for Mental Well-Being (Franklin D. McMillan).
8. Interrelationships Between Mental and Physical Health: The Mind-Body Connection (Michael W. Fox).
9. Mental Illness in Animals-The Need for Precision in Terminology and Diagnostic Criteria (Karen L. Overall).
10. Treatment of Emotional Distress and Disorders-Non-Pharmacologic Methods (John C. Wright, Pamela J. Reid and Zack Rozier).
11. Treatment of Emotional Distress and Disorders-Pharmacologic Methods (Amy R. Marder and J. Michelle Posate).
12. Emotional Maltreatment in Animals (Franklin D. McMIllan).
Part III: Mental Wellness.
13. The Concept of Quality of Life in Animals (Franklin D. McMillan).
14. Giving Power to Animals (Hal Markowitz and Katherine Eckert).
15. Psychological Well-Being in Animals (Suzanne Hetts, Dan Estep, Amy R. Marder).
16. Do Animals Experience True Happiness (Franklin D. McMillan).
17. Animal Happiness: A Philosophical View (Bernard e. Rollin).
Part IV: Special Populations.
18. Mental Well-Being in Farm Animals: How They Think and Feel (Temple Grandin).
19. The Mental Health of Laboratory Animals (Lesley King and Andrew N. Rowan).
20. Animal Well-Being and Research Outcomes (Hal Markowitz and Gregory B. Timmel).
21. Mental Health Issues in Captive Birds (Lynne Seibert).
Index.



The first authoritative reference text bringing together the most up-to-date information on the mental health and well-being of animals



Contributions from distinguished international experts in the fields of animal emotion research, animal behaviour, cognitive science and neuroscience


Mixes scientific research with practical information and clinical applications for veterinarians to use in practice