Mental Simulation: Evaluations and Applications - Reading in Mind and Language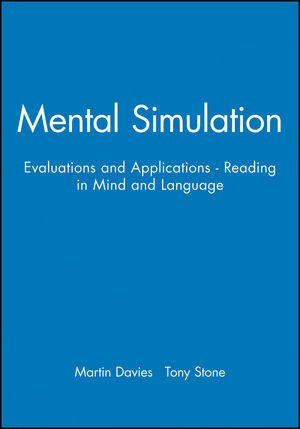 Mental Simulation: Evaluations and Applications - Reading in Mind and Language
ISBN: 978-0-631-19873-4
Dec 1995, Wiley-Blackwell
300 pages
Description
Many philosophers and psychologists argue that out everyday ability to predict and explain the actions and mental states of others is grounded in out possession of a primitive 'folk' psychological theory. Recently however, this theory has come under challenge from the simulation alternative. This alternative view says that human beings are able to predict and explain each other's actions by using the resources of their own minds to simulate the psychological aetiology of the actions of the others.

This book and the companion volume Folk Psychology: The Theory of Mind Debate together offer a richly woven fabric of philosophical and psychological theory, which promises to yield real insights into the nature of our mental lives.
List of contributors.
Acknowledgements.
Introduction: Tony Stone and Martin Davies.
1. Simulation and Psychological Concepts: Gary Fuller.
2. How to Think about Thinking: Jane Heal.
3. Simulation Without Introspection of Interference from Me to You: Robert M. Gordon.
4. Theories of the Mind in Collision: Plausibility and Authority: Norman H. Freeman.
5. Second Thoughts on Simulation: Stephen Stich and Shaun Nichols.
6. A Theory of the Child's Theory of Mind: Jerry A. Foder.
7. Knowledge and Ability in"Theory of Mind": One-eyed Overview of a Debate: Alan M. Leslie and Tim P. German.
8. Imagination and Simulation: Aesthetics Meets Cognitive Science: Gregory Currie.
9. Imagining and Pretending: Paul L. Harris.
10. Empathy, Mind, and Morals: Alvin I. Goldman.
11. Self-knowledge, Error and Disorder: Derek Bolton.
12. Game Theory and Knowledge by Simulation: Adam Morton.
13. Simulative Reasoning, Common-sense Psychology, and Artificial Intelligence: John A. Barnden.
Author Index.
Subject Index.
A companion volume Folk Psychology, edited by Martin Davies and Tony Stone (Blackwell Publishers, 1995) contains the foundation essays in this debate, along with an extensive introduction.