Mentoring, Preceptorship and Clinical Supervision: A Guide to Professional Roles in Clinical Practice, 2nd Edition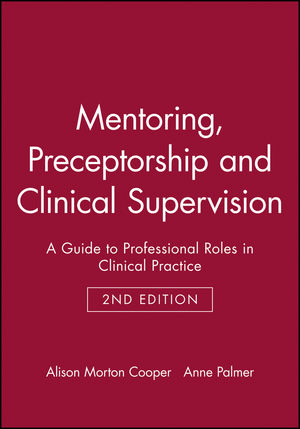 Mentoring, Preceptorship and Clinical Supervision: A Guide to Professional Roles in Clinical Practice, 2nd Edition
ISBN: 978-0-632-04967-7
Jan 2000, Wiley-Blackwell
244 pages
Description
Newly qualified nurses often experience difficulties moving from the role of student to qualified nurse. It has been formally recognized that these nurses require a support network to enable them to make this transition smoothly. Preceptorship is an important part of the UKCC's post-registration education and practice proposals. They recommend a period of 4 months under the guidance of a preceptor to enable newly appointed practitioners to achieve confidence within practice.

This new edition covers the essential information required to provide learning and support for newly qualified staff. It provides an excellent introduction that is current, relevant and comprehensive in its coverage. Additions to this new edition include coverage of clinical supervision and its relationship to mentoring and preceptorship. This text describes in detail the three main support roles: clinical supervision, mentoring, and preceptorship. These roles are illustrated throughout by case studies.
Foreword by Professor Malcolm Tight, Preface, Acknowledgements, The context of health care work, Mentoring in action, Becoming accountable: preceptorship in clinical practice, Clinical supervision: making the connections, Providing a professional support framework, Postscript by Brigid Procter, Index
REVIEW OF THE FIRST EDITION
"All you ever wanted to know about mentoring and preceptorship but were afraid to ask!"

"The readable, common sense approach, coupled with clever interweaving of relevant literature, makes it an equally valuable text for ward area, college library and individual purchase"

Journal of Inter professional Care

Reviews of the second edition:

"Most wards should carry a copy, and all libraries. This is a good-value book that relates well to clinical practice."Professional Nurse

"This is a welcome second edition of a valuable resource book for those involved in support roles in clinical practice, including practitioners, managers and educationalists." Journal of Nursing Management
* Builds on the success of the first edition
* Offers a practical model of learning support
* Promotes team building and accountability
* Helps plan, implement and evaluate work-based support