Mentoring as Transformative Practice: Supporting Student and Faculty Diversity: New Directions for Higher Education, Number 171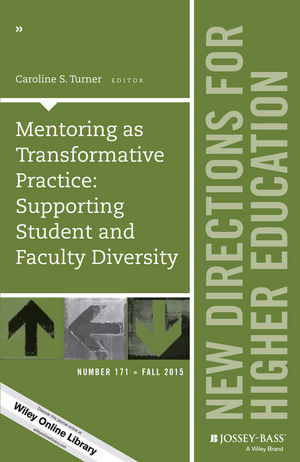 Mentoring as Transformative Practice: Supporting Student and Faculty Diversity: New Directions for Higher Education, Number 171
ISBN: 978-1-119-16107-3
Sep 2015, Jossey-Bass
120 pages
Description
Scholars examining how women and people of color advance in academia invariably cite mentorship as one of the most important factors in facilitating student and faculty success.
Contributors to this volume underscore the importance of supporting one another, within and across differences, as critical to the development of a diverse professoriate. This volume emphasizes and highlights:
the importance of mentorship;
policies, processes, and practices that result in successful mentoring relationships;
real life mentoring experiences to inform students, beginning faculty, and those who would be mentors; and
lievidence for policy makers about what works in the development of supportive and nurturing higher education learning environments.
The guiding principles underlying successful mentorships, interpersonally and programmatically, presented here can have the potential to transform higher education to better serve the needs of all its members.
This is the 171st volume of the Jossey-Bass quarterly report series New Directions for Higher Education. Addressed to presidents, vice presidents, deans, and other higher education decision makers on all kinds of campuses, it provides timely information and authoritative advice about major issues and administrative problems confronting every institution.
EDITOR'S NOTES 1
Caroline S. Turner
1. Mentoring Outside the Line: The Importance of Authenticity, Transparency, and Vulnerability in Effective Mentoring Relationships 3
Sharon Fries-Britt, Jeanette Snider
Informed by the literature and professional practice, this chapter examines the unique mentoring challenges facing women and underrepresented minorities in higher education. Findings indicate that traditional mentoring approaches fall short in fully supporting the needs of underrepresented populations in higher education.
2. Digging Deeper: Exploring the Relationship Between Mentoring, Developmental Interactions, and Student Agency 13
Kimberly A. Griffin, Jennifer L. Eury, Meghan E. Gaffney, with Travis York, Jessica Bennett, Emil Cunningham, Autumn Griffin
While many cite the importance of having a mentor, focusing on the quality and nature of specific interactions between students and faculty can lead to better strategies promoting student agency. This chapter presents narratives from students who work with the same mentor, focusing on their interactions and how they shaped students' experiences and outcomes.
3. Critical Mentoring Practices to Support Diverse Students in Higher Education: Chicana/Latina Faculty Perspectives 23
Julie L´opez Figueroa, Gloria M. Rodriguez
This chapter outlines critical practices that emerged from utilizing social justice frameworks to mentor first-generation, underrepresented minority students at the undergraduate to doctoral levels. The mentoring strategies include helping students to reframe instances when faculty and peers unconsciously conflate academic rigor with color-blind scholarship.
4. Educational Testimonio: Critical Pedagogy as Mentorship 33
Rebeca Burciaga, Natalia Cruz Navarro
This chapter chronicles the use of educational testimonio as one approach to critical pedagogy as mentoring in a college classroom. Written from the perspectives of an instructor and a student, it explores educational testimonio as one tool that has implications beyond the classroom, including retention in higher education and supporting the development of aspirations beyond undergraduate schools on the path to the professoriate.
5. Of Feral Faculty and Magisterial Mowglis: The Domestication of Junior Faculty 43
Richard J. Reddick
This chapter presents an assistant professor's scholarly personal narrative at the precipice of promotion, and reveals how the feral child metaphor might aptly describe many junior professors' experiences as they navigate a path toward tenure. This chronicling of mentorship in sometimes unexpected venues may aid new faculty and those invested in their success in both earning tenure and retaining them in the field.
6. Providing the Psychosocial Benefits of Mentoring to Women in STEM: CareerWISE as an Online Solution 53
Amy E. Dawson, Bianca L. Bernstein, Jennifer M. Bekki
This chapter outlines the psychosocial aspects of mentoring that help women combat the barriers they commonly face in science, technology, engineering, and mathematics (STEM). The authors describe the CareerWISE online resilience training and how it can address the shortage of effective mentors and role models who have been shown to increase the persistence of women in STEM fields.
7. Transforming the Undergraduate Research Experience Through Sustained Mentoring: Creating a Strong Support Network and a Collaborative Learning Environment 63
Erika T. Camacho, Raquell M. Holmes, Stephen A. Wirkus
This chapter describes how sustained mentoring together with rigorous collaborative learning and community building contributed to successful mathematical research and individual growth in the Applied Mathematical Sciences Summer Institute (AMSSI), a program that focused on women, underrepresented minorities, and individuals from small teaching institutions who might not have had the opportunity to do research otherwise. The collective learning and developmental experiences of AMSSI's cofounders as students, teaching assistants, and faculty in other research programs, together with their humble upbringings and cultural histories, are what define the unique structure and mentoring blueprint of AMSSI.
8. Developing a Latino Mentoring Program: Project MALES (Mentoring to Achieve Latino Educational Success) 75
Victor B. S´aenz, Luis Ponjuan, Jorge Segovia Jr., Jos´e Del Real Viramontes
This chapter highlights the development of Project MALES (Mentoring to Achieve Latino Educational Success). At the center of Project MALES is a mentoring program that aims to cultivate an engaged support network for males of color at the University of Texas at Austin and across surrounding communities. Specifically, there is a discussion of the theories and framework that guided the creation of this mentoring program and its ongoing development.
9. Weaving Authencity and Legitimacy: Latina Faculty Peer Mentoring 87
Anne-Marie N´u˜ nez, Elizabeth T. Murakami, Leslie D. Gonzales
As an alternative to typical top-down mentoring models, the authors advance a conception of peer mentoring that is based on research about collectivist strategies that Latina faculty employ to navigate the academy. The authors advance recommendations for institutional agents to support mentoring for faculty who are members of historically underrepresented groups.
10. Enacting Feminist Alliance Principles in a Doctoral Writing Support Group 97
Beth Blue Swadener, Lacey Peters, Kimberly A. Eversman
This study utilizes a multivocal narrative approach to analyze the dynamics, accomplishments, and challenges of an interdisciplinary doctoral support group consisting primarily of female members. The authors raise issues of power, alliance, troubling expert-novice models of mentoring, and the role of social justice pedagogy in the group.
INDEX 107