Merchants of Culture: The Publishing Business in the Twenty-First Century, 2nd Edition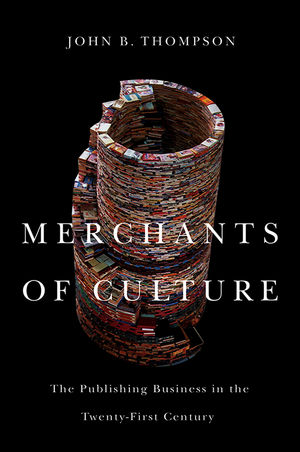 Merchants of Culture: The Publishing Business in the Twenty-First Century, 2nd Edition
ISBN: 978-0-745-66361-6 November 2013 Polity 456 Pages
Description
These are turbulent times in the world of book publishing. For nearly five centuries the methods and practices of book publishing remained largely unchanged, but at the dawn of the twenty-first century the industry finds itself faced with perhaps the greatest challenges since Gutenberg. A combination of economic pressures and technological change is forcing publishers to alter their practices and think hard about the future of the books in the digital age.

In this book - the first major study of trade publishing for more than 30 years - Thompson situates the current challenges facing the industry in an historical context, analysing the transformation of trade publishing in the United States and Britain since the 1960s. He gives a detailed account of how the world of trade publishing really works, dissecting the roles of publishers, agents and booksellers and showing how their practices are shaped by a field that has a distinctive structure and dynamic.

This new paperback edition has been thoroughly revised and updated to take account of the most recent developments, including the dramatic increase in ebook sales and its implications for the publishing industry and its future.
Preface to the Second Edition vi
Preface to the First Edition viii
Introduction 1
1 The Growth of the Retail Chains 26
2 The Rise of Literary Agents 59
3 The Emergence of Publishing Corporations 101
4 The Polarization of the Field 147
5 Big Books 188
6 Extreme Publishing 223
7 Shrinking Windows 238
8 The Wild West 292
9 The Digital Revolution 313
10 Trouble in the Trade 377
Conclusion: Facing an Uncertain Future 403
Appendix 1 Selected Imprints of the Main Publishing Corporations 410
Appendix 2 Note on Research Methods 415
Bibliography 425
Index 430
"The book is written in a style that is both elegant and easy to follow. There is a good balance between, on the one hand, dry numbers and figures and, on the other, colourful anecdote and informative metaphor. (...)Thompson's own book is a comprehensive and rigorous history of trade publishing, which will lead both scholars, editors or people with a more general interest in publishing to think about books in new and more complex ways."
The Kelvingrove Review
This is the first major study of the book publishing industry in over 30 years.
It provides a thorough, in-depth analysis of what's happening in the world of trade publishing today, at a time of enormous change and uncertainty.
It is written in a very clear and engaging way and will appeal to anyone interested in books and their future, from general readers and authors to those who work in the publishing industry.
The author has established a reputation as a leading authority on the publishing industry and his previous book, Books in the Digital Age, has become a standard work on academic publishing.