Mergers and Acquisitions For Dummies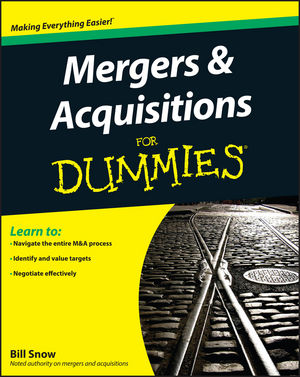 Mergers and Acquisitions For Dummies
ISBN: 978-1-118-07700-9
May 2011
368 pages
Product not available for purchase
Description
The easy way to make smart business transactions
Are you a business owner, investor, venture capitalist, or member of a private equity firm looking to grow your business by getting involved in a merger with, or acquisition of, another company? Are you looking for a plain-English guide to how mergers and acquisitions can affect your investments? Look no further.
Mergers & Acquisitions For Dummies explains the entire process step by step?from the different types of transactions and structures to raising funds and partnering. Plus, you'll get expert advice on identifying targets, business valuation, doing due diligence, closing the purchase agreement, and integrating new employees and new ways of doing business.
Step-by-step techniques and real-world advice for making successful mergers and acquisitions
Covers international laws and regulations
How to take advantage of high-value deals
Going beyond the case studies of other books, Mergers & Acquisitions For Dummies is your one-stop reference for making business growth a success.
Introduction.
Part I: Mergers & Acquisitions 101.
Chapter 1: The Building Blocks of Mergers and Acquisitions.
Chapter 2: Getting Ready to Buy or Sell a Company.
Chapter 3: Previewing the Generally Accepted M&A Process.
Part II: Taking the First Steps to Buy or Sell a Company.
Chapter 4: Financing M&A Deals.
Chapter 5: With a Little Help from Your Friends: Working with M&A Advisors.
Chapter 6: Finding and Contacting Buyers or Sellers.
Part III: Starting the Deal on the Right Foot.
Chapter 7: Assuring Confi dentiality.
Chapter 8: Creating and Reviewing an Offering Document.
Chapter 9: Properly Expressing Interest in Doing a Deal.
Chapter 10: Ensuring Successful First Meetings between Buyer and Seller.
Part IV: Firming Up the Deal.
Chapter 11: An Insider's Guide to M&A Negotiating.
Chapter 12: Crunching the Numbers: Establishing Valuation and Selling Price.
Chapter 13: LOI and Behold: Making or Receiving an Offer.
Chapter 14: Confi rming Everything! Doing Due Diligence.
Chapter 15: Documenting the Final Deal: The Purchase Agreement.
Part V: Closing the Deal . . . and Beyond!
Chapter 16: Knowing What to Expect on Closing Day.
Chapter 17: Handling Post-Closing Announcements and Adjustments.
Chapter 18: Come Together: Integrating Buyer and Seller.
Part VI: The Part of Tens.
Chapter 19: Ten Considerations Prior to Signing an LOI.
Chapter 20: Ten Major M&A Errors and How to Avoid Them.
Chapter 21: Ten Possible Ways to Solve Valuation Differences.
Appendix.
Index.