Mergers and Acquisitions Handbook for Small and Midsize Companies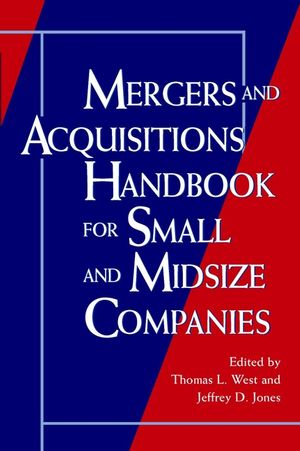 Mergers and Acquisitions Handbook for Small and Midsize Companies
ISBN: 978-0-471-13330-8 April 1997 464 Pages
Download Product Flyer
Download Product Flyer
Download Product Flyer is to download PDF in new tab. This is a dummy description. Download Product Flyer is to download PDF in new tab. This is a dummy description. Download Product Flyer is to download PDF in new tab. This is a dummy description. Download Product Flyer is to download PDF in new tab. This is a dummy description.
Description
Unlike the M&A fever that gripped so many large, publicly heldcorporations in the 1980s, the mergers and acquisitions activity ofthe 1990s is primarily centered around small and midsizebusinesses. But the sale and purchase of these companies present aunique constellation of problems, pitfalls, and challenges that maylead the unprepared buyer or seller to disappointment, difficulty,or even disaster. In this book--the only mergers and acquisitionsguide that focuses on small and midsize companies--experts fromevery profession and specialty related to the sale or acquisitionof a business lead buyers and sellers step by step through eachphase of the M&A process. Their aim is to help both partiesavoid hazards and mistakes and arrive at a fair and mutuallyprofitable arrangement.

Beginning with the basics, the book offers an overview of themarket: the size and type of businesses covered; who the buyers andsellers are; why businesses are put up for sale; how to prepare abusiness for sale; and how to size up a business that is on themarket. The book's second section looks at financial and valuationissues, a particularly important area when purchasing companiesthat are not subject to SEC regulations. Coverage includesnormalizing historical financial statements, using financialforecasts, determining real ROI, valuation methods for midsizecompanies, and determining the value of partial ownerships,intangible assets, and business risk characteristics.

After a detailed examination of legal issues, the book explores theroles of outside professionals in the M&A process, includingintermediaries, attorneys, accountants, business appraisers, andmachinery and technical appraisers. The book concludes with a lookat various ways of structuring the final deal and the pros and consof each arrangement from both the buyer's and seller'sperspectives.

With 36 self-contained chapters that can be read in sequence orconsulted independently, Mergers and Acquisitions for Small andMidsize Companies is both a comprehensive M&A tutorial fornewcomers to the process and an indispensable reference forprofessionals involved in any aspect of the buying and selling ofsmall and midsize companies.

A Step-by-Step Guide to Buying and Selling a Business from aDistinguished Group of Recognized Experts

Mergers and Acquisitions Handbook for Small and Midsize Companiesis the perfect guide for anyone who is selling a business or hopingto buy one. Each of the nearly 30 contributors is a recognizedexpert in a particular aspect of the M&A process. These authorsexplain their topics from the ground up, assuming no previousexperience on the part of the reader and addressing the subjectfrom every conceivable angle.

Areas of discussion include:
* Fundamentals of the mergers and acquisitions process
* Financial and valuation--normalizing historical financialstatements, utilizing forecasts, valuation methods, and more
* Legal aspects--disclosure requirements, due diligence, advisorengagement letters, closing documentation
* The role of outside professionals--intermediaries, attorneys,accountants, business appraisers, and machinery and technicalappraisers
* The deal itself--deal structures, creative financing strategies,a case study, pros and cons of ESOPs, and much more
Table of contents
Partial table of contents:

THE BASICS.

Defining the Midsized Company and the Market (T. West).

Who Are the Buyers?

(T. West).

Growth by Acquisition (J. Jones).

FINANCIAL AND VALUATION ASPECTS.

Utilizing Forecasts to Maximize Acquisition Success (R.Machiz).

Selling Partial Ownership Interests: Levels of Value (Z. Mercer& J. Julius).

LEGAL ASPECTS.

Advisor Engagement Letters (G. Hubbard).

Closing Documentation (W. Dunn).

THE OUTSIDE PROFESSIONALS.

The Role of the Lawyer (A. Bonis).

The Role of Machinery and Technical Appraiser (L. Miles).

THE DEAL ITSELF.

The Blue Pill: Creative Financing Strategies for BusinessAcquisitions (J. Slater).

Due Diligence Process for Buyers: Discovering the Truth (L.Stirtz).

Index.