Mesocrystals and Nonclassical Crystallization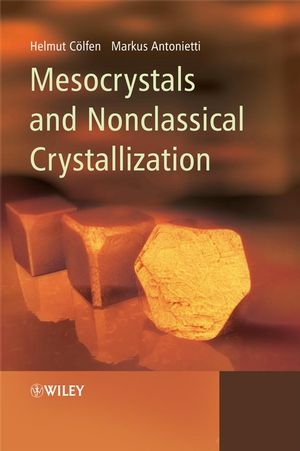 Mesocrystals and Nonclassical Crystallization
ISBN: 978-0-470-99460-3 June 2008 288 Pages
Description
Through both explanation and discussion, this title presents a complete review into mesocrystals, and accurately describes this relatively new study of established materials. This book also provides an introduction to other areas of crystallisation including self-assembly, classical crystallisation and colloidal crystals.

 Key features:
Description of crystals as well as their formation processes and ways to modify them.
Examines new ways towards the design of new materials and aids comprehension of the building principles of biominerals.
Helps to explain many unusual observations made in the study of crystallisation.
Written by the professionals in this subject 'Mesocrystals: New Self-Assembled Structures' outlines the future potential of this topic within a variety of disciplines including engineering science, physics and chemistry, making it a versatile and valuable text.
Preface.
1. Mesocrystals and Nonclassical Crystallization.
2. Physico-Chemical Principles of Crystallization.
3. Examples of Crystals Challenging the Classical Textbook Mechanism.
4. Nonclassical Crystallization.
5. Self-Assembly and Self-Organization.
6. Colloidal Crystals with Spherical Units: Opals and Colloidal Nanocrystals.
7. Mesocrystal Systems.
8. Mechanism of Mesocrystal Formation.
9. Analysis of Mesocrystals.
10. Tuning of Properties.
11. A Unifying Crystallization Mechanism.
12. Analogy between Oriented Attachment or Hierarchically Structured Crystals and Polymers.
13. Summary and Outlook.
Index.