Metabolic Regulation: A Human Perspective, 3rd Edition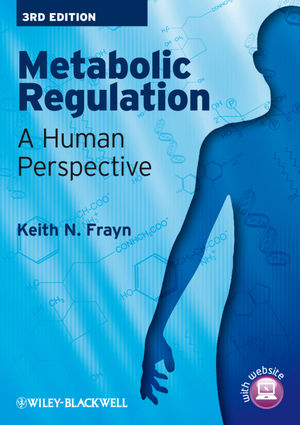 Metabolic Regulation: A Human Perspective, 3rd Edition
ISBN: 978-1-118-35579-4 May 2012 Wiley-Blackwell 384 Pages
Description
The important Third Edition of this successful book conveys a modern and integrated picture of metabolism and metabolic regulation. Explaining difficult concepts with unequalled clarity, author Keith Frayn provides the reader with an essential guide to the subject. Covering topics such as energy balance, body weight regulation and how the body copes with extreme situations, this book illustrates how metabolic regulation allows the human body to adapt to many different conditions. Changes throughout the new edition include:
Extensive chapter updates

Clear and accessible 2-color diagrams

Q&A sections online at

www.wiley.com/go/frayn

to facilitate learning
Frayn has written a book which will continue to be an extremely valuable tool for scientists, practitioners and students working and studying across a broad range of allied health sciences including medicine, biochemistry, nutrition, dietetics, sports science and nursing.
Table of contents
Preface.
List of Abbreviations.
1 The Underlying Principles of Human Metabolism.
2 Cellular Mechanisms Involved in Metabolic Regulation.
3 Digestion and Intestinal Absorption.
4 Longer-Term Regulation of Metabolism.
5 Organs and Tissues.
6 Important Endocrine Organs and Hormones.
7 Integration of Carbohydrate, Fat, and Protein Metabolism in Normal Daily Life.
8 The Nervous System and Metabolism.
9 Coping with Some Extreme Situations.
10 Lipoprotein Metabolism.
11 Diabetes Mellitus.
12 Energy Balance and Body Weight Regulation.
Colour plate section can be found between pages148and149.
References.
Index.
Additional resources are published on the book's web site (www.wiley.com/go/frayn).
Reviews
"It is hard to find a textbook that gives a better basis for the understanding of Human metabolism and nutrition, that is so well designed and actually quite fun to read as this one. This book is my first choice for a textbook for my medical students and for nursing school too. It is well suited for any kind of studies of metabolism at a higher level because of its ease at explaining the basics and the frameworks needed for the understanding of metabolism. It is the first book I give to my doctorial students when they need to freshen up their knowledge and the basics in metabolism when starting research in clinical nutrition and metabolism...if anyone is looking for the most interesting and fun book to read as an in depth introduction to human metabolism and nutrition, this is it!" (Clinical Nutrition, December 2010)


What's New
3rd Edition of a popular text
Includes 2 colour diagrams throughout
Q&A sections online at

www.wiley.com/go/frayn

to facilitate learning
Written by a world renowned expert