Metal-Air Batteries: Fundamentals and Applications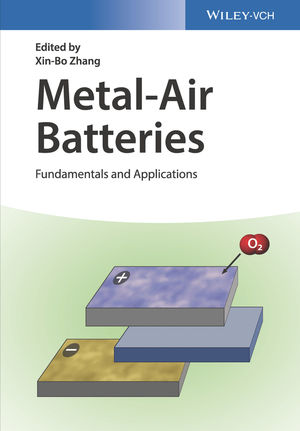 Metal-Air Batteries: Fundamentals and Applications
ISBN: 978-3-527-34279-2
Oct 2018
350 pages
Product not available for purchase
Description
Covering different types of metal-air batteries and their components as well as system designation, this book systematically summarizes current progress and research advances in the field that was previously unavailable in the literature.
Following the fundamentals of electrochemical batteries, the text then goes on to introduce the various types of metal-air batteries and such topics as cathode construction, electrocatalysts, anode protection, and oxygen electrochemistry, as well as the system-level considerations for their use. The focus throughout is on those battery systems that show great potential for renewable energy storage and the book concludes with a summary of future perspectives in the field.
Of great interest to industrial as well as academic researchers.
PART 1 INTRODUCTION
Chapter 1. Introduction to Electrochemical Batteries
PART 2 Species of metal-air batteries
Chapter 2.Li-air Battery
Chapter 3.Na-air Battery
Chapter 4.Zn-air Battery
Chapter 5.Al-air Battery
Chapter 6.Mg-air Battery
Chapter 7.K-air Battery
Chapter 8.Fe-air Battery
PART 3 OVERVIEW AND FUTURE PERSPECTIVES
Chapter 9. System design for the metal-air batteries
Chapter 10. Overview and Perspectives on the development of metal-air batteries