Metal Contamination of Food: Its Significance for Food Quality and Human Health, 3rd Edition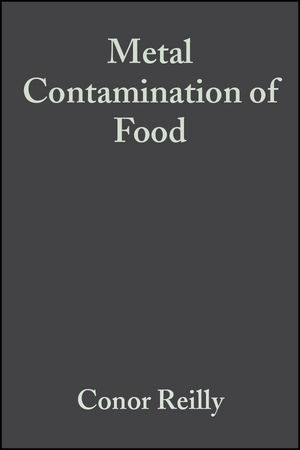 Metal Contamination of Food: Its Significance for Food Quality and Human Health, 3rd Edition
ISBN: 978-0-632-05927-0
Nov 2002, Wiley-Blackwell
284 pages
Description
Since publication of the previous edition of this successful book, there have been many advances in the field of food science and metal analysis and these have been taken into account of in compiling this new edition. Data on metal levels in foods and diets have been updated with information gathered from recent international literature. More than 80% of the text has been completely rewritten and, as the addition of a new subtitle suggests, greater account is taken than in earlier editions of the importance of the nutritional properties of many of the metals that we consume.


In the compilation of this cutting-edge new edition, full account has been taken of the significant advances in the ready availability of multi-element analysis, improved sample preparation procedures and a growing interest in the content of chemical species in foods. Details of several metals, not considered in depth in previous editions but now widely used in the electronic and chemical industries, have also been included.


The third edition of Metal Contamination of Food is an essential reference book for food industry personnel, including those working in food processing, formation and ingredients, packaging, quality control and food safety. Nutritionists, public analysts and chemists will also find much of great use within the covers of this book. Libraries and laboratories worldwide in all universities and research establishments where food science and technology, nutrition and chemistry are studied and taught should
Buy Both and Save 25%!
Original Price:$542.95
Purchased together:$407.21
save $135.74
Cannot be combined with any other offers.
Preface tp the third edition.
Preface to the second edition.
Preface to the first edition.
PART I: THE METALS WE CONSUME:.
Introduction; Ash; The metals in food; Chemical properties of the metals; Representative and transition metals; Distribution of the metals in the environment; Metals in human tissue; Metals in soil; Metals in food; Metal analysis of food; How metals get into food; Metals in food and the law..
PART II: THE INDIVIDUAL METALS:.
The persistent contaminants: lead, mercury, cadmium; The packaging metals: aluminium and tin; Transition metals: chromium, manganese, iron, cobalt, nickel, copper, molybdenum; The other transition metals and zinc; The metalloids: arsenic, antimony, selenium, tellurium and boron; The new metal contaminants; The radioactive metals; Radioisotopes; The catalytic metals; The electronic metals; Germanium; Tantalum; Caesium; Barium, beryllium, thallium and the other metals - summing up; Bismuth; Lithium; Zirconium; Cerium and the other rare earth elements; The remaining metals: summing up.
Glossary.
Index.
"I can only praise this book. I found it extraordinary in breadth and scope... This book is highly comprehensive but still amazingly rich in detail; exceptional quality... this book is at the very cutting edge of current analytical technical development and public health and safety... Impressive reading!" -
Professor Berislav Momcilovic, Croatian Medical Journal
"Libraries will be anxoius to have this comprehensive text on their shelves... well presented and lucid throughout. It is a worthy successor to the previous editions." Les Ebdon, British Journal of Nutrition, November 2003
"Ein Standartwerk der angelsächsischen Lteratur, das eine weite Verbreitung verdient und in die Grundausstattung der Bibliotheken gehort." H Klostermeyer, European Food Research and Technology, May 2003.
Translation: "A standard work on anglo-saxon literature that deserves extensive
circulationand belongs on the shelves at every library."

'a well balanced and valuable reference for any health professional interested in the role of metals in health, for the food industry or any academic library.'

Nutrition Bulletin
* new edition of popular book
* fully up-to-date and international in the approach taken
* subject of wide concern in nutrition, food safety, product formulation and quality
* author has many years experience teaching and researching in the area