Metal-Polymer Nanocomposites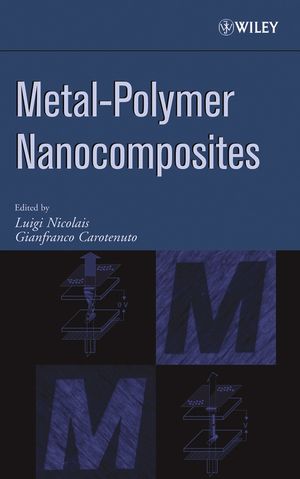 Metal-Polymer Nanocomposites
ISBN: 978-0-471-47131-8
Oct 2004
324 pages
Description
A unique guide to an essential area of nanoscience
Interest in nano-sized metals has increased greatly due to their special characteristics and suitability for a number of advanced applications. As technology becomes more refined-including the ability to effectively manipulate and stabilize metals at the nanoscale-these materials present ever-more workable solutions to a growing range of problems.
Metal-Polymer Nanocomposites provides the first guide solely devoted to the unique properties and applications of this essential area of nanoscience. It offers a truly multidisciplinary approach, making the text accessible to readers in physical, chemical, and materials science as well as areas such as engineering and topology.
The thorough coverage includes:
The chemical and physical properties of nano-sized metals
Different approaches to the synthesis of metal-polymer nanocomposites (MPN)
Advanced characterization techniques and methods for study of MPN
Real-world applications, including color filters, polarizers, optical sensors, nonlinear optical devices, and more
An extensive list of references on the topics covered
A unique, cutting-edge resource for a vital area of nanoscience development, Metal-Polymer Nanocomposites is an invaluable text for students and practitioners of materials science, engineering, polymer science, chemical engineering, electrical engineering, and optics.
Buy Both and Save 25%!
Original Price:$356.00
Purchased together:$267.00
save $89.00
Cannot be combined with any other offers.
Preface.
Contributors. 
1. Physical and chemical properties of nanosized metal particles (C.N.R. Rao, et al.). 
2. Metal containing polymers: cryochemical synthesis, structure and physico-chemical properties (L.I. Trakhtenberg and G.N. Gerasimov).
3. Controlled pyrolysis of metal-containing precursors as a way for synthesis of metallopolymer nanocomposites (A.D. Pomogailo, et al.). 
4. Nanostructured polymeric nanoreactors for metal nanoparticle formation (L.M. Bronstein).
5. Metal-polymer nanocomposite synthesis: Novel Ex Situ and In Situ approaches (G. Carotenuto, et al.).
6. Plamon absorption of embedded nanoparticles (A. Heilmann).
7. Magnetooptic of granular materials and new optical methods of magnetic nanoparticles and nanostructures imaging (V. Belotelov, et al.). 
8. Optical extinction of metal nanoparticles synthesized in polymer by ion implantation (A.L. Stepanov).
9. Optically anisotropic metal-polymer nanocomposites (W. Caseri).
Index.
"…a very useful book for the material scientist or polymer chemist working in the area of metallic nanocomposites." (
IEEE Electrical Insulation Magazine
, September/October 2006)
"…the book was very informative and comprehensible even by the novice readers. The editors are to commended for their diligence in producing this excellent book." (Materials and Manufacturing Processes, January 2006)
"This book is a necessary resource for researchers working in the fields of metal nanoparticles and metal-polymer nanocomposites." (Journal of Metals Online, September 6, 2005)
"…a fascinating, very useful, and timely reference text loaded with practical information designed to advance the state of the art…" (IEEE Electrical Insulation Magazine, November/December 2005)
"…provides the first guide solely devoted to the unique properties…of nanoscience…offers a truly multidisciplinary approach, making the text accessible to readers…thorough…" (FIZ Karlruhe/ Apollit, November 2005)
"References are numerous and on the whole, extensive…This title is recommended for special or academic libraries at the post-graduate level." (E-STREAMS, March 2005)
"For workers newly entering the field, this book should point them at known methods and materials properties, in an efficient manner." (Polymer News)