Metallurgical and Materials Processing: Principles and Technologies (Yazawa International Symposium), Volume 2, High-Temperature Metal Production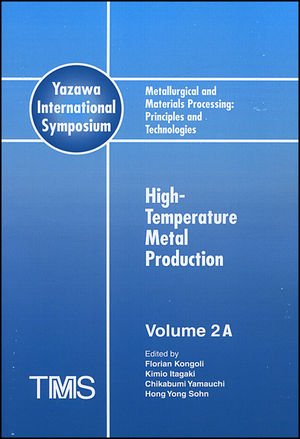 Metallurgical and Materials Processing: Principles and Technologies (Yazawa International Symposium), Volume 2, High-Temperature Metal Production
ISBN: 978-0-873-39547-2
Jan 2003
818 pages
Description
From the TMS 2003 Annual Meeting & Exhibition symposium honoring the life's work of Professor Akira Yazawa, this book, the second in a three-volume collection, discusses recent developments in the physical chemistry of metallurgical processes and physicochemical principles involved in materials processing, with a focus on the production of high-temperature metals.

This volume is part of a three-volume set. You may purchase any volume individual or you may purchase the entire three-volume set in its entirety as listed below:
Three-Volume Set: Metallurgical and Materials Processing Principles and Technologies (Yazawa International Symposium)
Volume 1: Materials Processing Fundamentals and New Technologies
Volume 2: High-Temperature Metal Production
Volume 3: Aqueous and Electrochemical Processing
A collection of papers from the 2003 TMS Annual Meeting and Exhibition, which was held in San Diego, California, March 2-6, 2003.

Original Price:$763.00
Purchased Together:$680.00
save $83.00
Biography of Professor Yazawa.
Foreword.
Editors' Biographies.
Organizing Committee.
Session Chairpersons.
Sponsors.
PLENARY.
Contribution Of Copper Smelting Technology To Sustainable Development Of Human Society (A. Nishikawa).
Non-Ferrous Metals – The Challenges In Metal Production And Technology Transfer (T. Järvinen).
The Role Of Lead Smelting At Korea Zinc (C.-Y. Choi).
LEAD-ZINC.
Modern Applied Technologies For Primary Lead Smelting At The Beginning Of The 21st Century (Keynote) (A. Siegmund).
Simulation Of Imperial Smelting Furnace Operation Using A Mathematical Model (Invited) (K. Matsuzaki, F. Tanno and A. Fuwa).
The Nature Of Accretion Formation During Roasting Of Zinc Concentrates In Fluidized Bed Furnace (N.M. Komkov and V.A. Luganov).
The Experience Of Lead Direct Smelting In Korea Zinc's Onsan Refinery (Keynote) (Y.H. Lee and Y.M. Park).
Installation Of Arsenic Removal In The Hematite Process (H. Masuda, S. Sato, Y. Kudo and Y. Shibachi).
NICKEL.
An Overview Of The Metallurgy Of Nickel-Copper Matte Converting (Keynote) (A.E.M. Warner and C.M. Díaz).
Miniplant Oxygen Flash Smelting Of Bulk Copper-Nickel Sulfide Concentrate: The Effect Of Coke Addition On Process Metallurgy (J. Liu, A.E.M. Warner, T.A. Utigard, C.M. Díaz and M. Fezzani).
The Operation Of The Inco Flash Furnace Uptake: Combustion Of H2S And Formation Of Uptake Buildup (J. Liu, A.E.M. Warner, G. Osborne, D. Cooke and R. Slayer).
Nickel And Copper Behavior During Autogenous Smelting Of Copper Nickel-Containing Concentrate After High-Grade Matte Flotation (L.Sh. Tsemekhman, L.B. Tsymbulov, A.G. Ryabko and M.S. Fyodorov).
An Investigation On The High–Mg-Content Slag In Jinchuan Nickel Flash Smelting Furnace (W. Zhi and W. Wei).
Mechanisms Of The Cleaning Of Cu-Ni-Co-Containing Slags By Oxidizing-Reduction Gas Mixtures (Invited) (L.Sh. Tsemekhman, A.G. Ryabko, L.B. Tsymbulov, M.V. Knyazev, V.B. Fomichev, A.A. Ryumin and L.A. Pavlinova).
COPPER I.
Recent Advances In Modern Continuous Converting (Keynote) (M. Goto and M. Hayashi).
New Approach For The Optimization Of Copper Concentrates Flash Combustion By The Control Of Blends (Invited) (R. Parra, R. Parada and M. Rodríguez).
Effect Of Magnetic Field On The Rate Of Slag Reduction In An Electric Furnace (V. Montenegro, T. Fujisawa, A. Warczok and G. Riveros).
Ausmelt Technology, Flexible, Low Cost Technology For Copper Production In The 21st Century (Invited) (J. Sofra and R. Matusewicz).
Quantification Of The Liquidus Surface Of "Lime Ferrite" Slags At Several Oxygen Potentials (F. Kongoli, I. McBow and A. Yazawa).
The Chilean Copper Metallurgical Industry: An Update (Invited) (A. Valenzuela, J. Palacios, D. Cordero and M. Sánchez).
COPPER II.
Future Of Copper Converting Process (Keynote) (Y. Ojima).
Efficiency Of Porous Plugs In Fire Refining Of Crude Copper (C. Acuna and M. Sherrington).
The Isasmelt Process—An Example Of Successful Industrial R&D (Invited) (P. Arthur, B. Butler, J. Edwards, C. Fountain, S. Hunt and J. Tuppurainen).
Development Of Sumitomo Premixed Concentrate Burner For Copper Flash Smelting (Y. Hattori, Y. Mori, Y. Kondo, Y. Sasaki, T. Okubo and K. Baba)
Effect Of The Oxygen Potential On The Viscosity Of Copper Smelting Slags (F. Kongoli, I. McBow and S. Llubani).
Two Copper Smelting Processes At Onsan (Invited) (Y.-C. Kang and I.-H. Song).
High Intensive Operation Of Flash Smelting Furnace At Saganoseki Smelter & Refinery (M. Ogasawara, T. Kamegai and M. Maeda).
The Copper Loss In Slag Of Flash Smelting Furnace In Tamano Smelter (T. Maruyama, N. Furui, M. Hamamoto and T. Sunamoto).
COPPER III.
Effect Of Oxygen Enrichment On The Teniente Converter Productivity At The Ilo Smelter, Perú (J. Bengoa, J. Palacios and M. Sanchez).
Oxidation Of Copper At Different Temperatures (G. Plascencia and T. Utigard).
Yunnan Copper Corporation's New Smelter China's First Isasmelt (Y. Li and P. Arthur).
Modelling Of Chalcocite Concentrate Flash Smelting (Z. Miczkowski, J. Czernecki and Z. Smieszek).
Copper Converting Versus Steel Converting – A Critical Comparison (Invited) (L. Holappa and H. Jalkanen).
Effect Of Electric And Magnetic Fields On The Metallic Inclusions In A Liquid Slag (A. Warczok and G. Riveros).
Factors Affecting The Rate Of Copper Reduction During Copper Refining (G. Riveros, A. Warczok, L. Voisin and T. Marin).
COPPER IV.
Application Of The Porous Plug System In The Anode Furnace At Onsan Smelter (S.-S. Lee, B.-S. Kim and S.-R. Choi).
Behavior Of Silver In The Electric Furnace For Copper Dross Treatment (T. Yasugi and K. Yamazaki).
A Process Designed For The Ancient Copper Smelting Slags (Invited) (B. Derin, F.Ç. Sahin, O. Yücel, E. Açma and O. Addemir).
Present And Future Of Caletones Smelter (G.H. Achurra, P.B. Chacana, J.D. Büchi and F.A. Condore).
Thermodynamic Fundamentals Of Calcium Ferrite Slag And Their Application To Mitsubishi Continuous Copper Converter (Invited) (F. Tanaka, O. Iida and Y. Takeda).
Control Of Magnetite Behavior In The Mitsubishi Process At Naoshima (N. Hasegawa and H. Sato).
The Behavior Of Impurities At Kosaka Smelter (K. Watanabe and S. Nakagawara).
RECYCLING, WASTE TREATMENT AND ENVIRONMENTAL ISSUES.
Metal Recycling And Waste Treatment (Keynote) (Y. Maeda).
Distribution Of Metal Values In Pyrometallurgical Recycling Of Copper From The Waste (J. Hino and Y. Takeda).
Environmental Policy And Continuous Improvement In Atlantic Copper (Invited) (J. Contreras, A. Alonso, P. Hidalgo and M. Palacios).
The Potential Of Several Plants For Phytoremediation Of Nickel Contaminated Soils And For Nickel Phytoextraction (Invited) (A. Cullaj, A. Hasko and F. Kongoli).
Treatment Of Aqueous Effluents For The Recovery And/Or Removal Of Metals In The Non-Ferrous Metals' Industry-A Review (Invited) (V. Ramachandran).
A Dynamic LCA Model For Assessing The Impact Of Lead Free Solder (E.V. Verhoef, M.A. Reuter and A. Scholte).
Use Of Solid Hematite To Fix Arsenic Contained In A Gas Phase (A. González, E. Balladares, R. Parra and M. Sanchez).
Environmental Impact Assessment Of Imperial Smelting Process In China (G. Xueyi, X. Songwen, L. Qihou, N. Zuoren, Z. Duomo and Y. Ryoichi).
GENERAL NON-FERROUS PRODUCTION.
The Contribution Of Pyrometallurgy To Sustainable Development (Keynote) (W.J. Rankin).
Melt Atomisation – The Bridge From Pyro-To Hydro-Metallurgy (J. J. Dunkley, D. Norval and B. Ludvigsson).
Laboratory Research On Reducing-Matting Smelting Of Jamesonite Concentrate (T. Chaobo, T. Motang, Y. Weiyi and P. Ji).
IRON AND STEEL MAKING.
Operational Improvements For RH-KTB Degasser Of Companhia Siderurgica De Tubarao (CST) Steel Plant Through A Physical Modeling Study (Invited) (V. Seshadri, C.A. da Silva, I.A. da Silva, R.P. Tavares, E.M. de Castro Martins, F.D. da Silva, G.A.V. Filho and P.S.B. Lascosqui).
Optimization Of The Injection Refining-Up Temperature Process (IR-UT) Of The Companhia Siderúrgica De Tubarão Steel Plant (CST) Using Physical Modeling (C.A. da Silva, I.A. da Silva, V. Seshadri, C.M.G. da Silva, M. de P. Alves, E.C. Fracalossi Jr., C.A. Perim and C.D. Barão).
Assessment Of The Performance Of The Tundish Of A Six Strand Continuous Casting Unit Of Companhia Siderurgica Belgo-Mineira (CSBM), Brazil Using Physical Modeling (M.S.S. Silva, E.G. da Mota, E.C. Fracalossi Jr, C.A. da Silva, I.A. da Silva, J.G. da C. Neto and V. Seshadri).
Software For Selection And Analysis Of Mould Fluxes For Continuous Casting Of Slabs (V. Seshadri and R.P. Tavares).
Modeling Of EAF Slag Chemistry For Optimal Slag Foaming And Refractory Service Life (J.P. Bennett and K.-S. Kwong).
CORPORATE SECTION.
Dowa Mining Co., Ltd. (Japan).
Flogen Technologies Inc.(Canada).
Furukawa Co., Ltd. (Japan).
Korea Zinc Co. Ltd. (South Korea).
Mitsubishi Materials Corp. (Japan).
Mitsui Mining and Smelting Co., Ltd.(Japan).
Outokumpu Oyj (Finland).
Sumitomo Metal Mining Co., Ltd. (Japan).
Author Index.