Metaphysics, Volume 20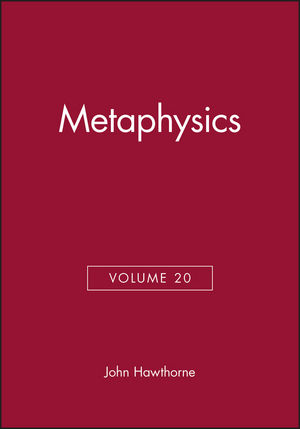 Metaphysics, Volume 20
ISBN: 978-1-405-16792-5 December 2006 Wiley-Blackwell 516 Pages
Description
Philosophical Perspectives Volume 20, Metaphysics
, contains over 15 articles from leading philosophers of Metaphysics.


Brings together original essays by some of the foremost thinkers in the field, among them Theodore Sider, Peter Van Inwagen and J.R.G. Williams

Explores such topics as infinity and causation, the nature and epistemology of modality, and the persistence of objects through relativistic time
Table of contents
I FRANK ARNTZENIUS, Infinity Relativity and Smoothness 1.
II GEORGE BEALER, A Definition of Necessity 17.
III PHILIP BRICKER, Absolute Actuality and The Plurality of Worlds 41.
IV BERIT BROGAARD, Two Modal–Isms: Fictionalism and Ersatzism 77.
V MATTI EKLUND, Neo-Fregean Ontology 95.
VI ALEX OLIVER & TIMOTHY SMILEY, What Are Sets and What Are They For? 123.
VII IAN GIBSON & OLIVER POOLEY, Relativistic Persistence 157.
VIII CODY GILMORE, Where in the Relativistic World Are We? 199.
IX BORIS KMENT, Counterfactuals and the Analysis of Necessity 237.
X KRIS MCDANIEL, Modal Realisms 303.
XI L. A. PAUL, In Defense of Essentialism 333.
XII CAROLINA SARTORIO, Failures to Act and Failures of Additivity 373.
XIII THEODORE SIDER, "Bare Particulars" 387.
XIV ZOLT´AN GENDLER SZAB´O, Counting Across Times 399.
XV GABRIEL UZQUIANO, Receptacles 427.
XVI PETER VAN INWAGEN, Names for Relations 453.
XVII BRIAN WEATHERSON, The Asymmetric Magnets Problem 479.
XVIII J. R. G. WILLIAMS, Illusions of Gunk 493
Features


Contains 18 new articles on various metaphysical issues

Brings together original essays by some of the foremost thinkers in the field, among them Theodore Sider, Peter Van Inwagen and J.R.G. Williams

Explores such topics as infinity and causation, the nature and epistemology of modality, and the persistence of objects through relativistic time