Metformin - The Gold Standard: A Scientific Handbook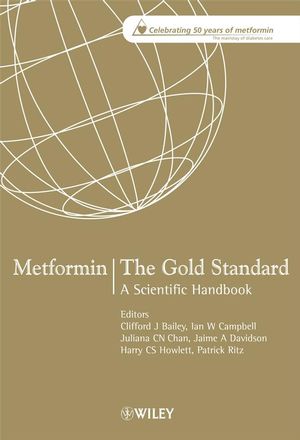 Metformin - The Gold Standard: A Scientific Handbook
ISBN: 978-0-470-72541-2
May 2008
272 pages
Product not available for purchase
Description
Metformin may play in important role in the future in helping to prevent the development of diabetes: it is a strong candidate therapy for delaying the onset of the disease and potentially as part of a treatment programme to correct features of the metabolic syndrome.

This book celebrates 50 years of research into metformin and its use in the treatment of diabetes.  Metformin is still the drug of choice for managing patients with type 2 diabetes and all new drugs are tested in comparison with this, the gold standard.  Comprising seven sections, addressing different aspects of research on metformin and its applications, this book is edited by a world class team of expert diabetologists and beautifully presented in two colour throughout.  It also includes a bibliography of all papers published on metformin and a complete list of all authors on those papers.
Preface.
Editors.
Section 1  History and Heritage.
Introduction by P Lefèbvre. 
Galegine and antidiabetic plants.  
Discovery of metformin.      
Introduction of metformin into clinical practice: the French innovation.
Metformin: a chemical perspective.      
Pharmaceutical development of metformin.
Section 2  Efficacy.
Introduction by R A DeFronzo.
Defining the clinical utility of metformin: reflections from Scotland.
Metformin in combination.    
Metformin in children and adolescents with type 2 diabetes.         
Dose-related antihyperglycaemic efficacy of metformin.      
Understanding the glucose-lowering actions of metformin.      
Focus on metformin and body weight. 
Insights into the effects of metformin on the lipid profile.
Section 3  Cardiovascular Benefits.
Introduction by R Holman.
Metformin and cardiovascular protection: lessons from the UK Prospective Diabetes Study.
Survival benefits of metformin in high-risk populations.      
Mechanisms of vascular protection with metformin.
Section 4  Health Outcomes.
Introduction by C-Y Pan.
Defining the health economic benefits of metformin.      
Impact of metformin on quality of life.
Section 5   Safety.
Introduction by N Hotta.
Tolerability of metformin.      
Measures to improve the gastrointestinal tolerability of metformin.      
Defining the risk of lactic acidosis.           
Defining patient populations not indicated for metformin.
Section 6  Guidelines.
Introduction by D J Chisholm.
The role of metformin in setting treatment standards within
management guidelines.        
Section 7  Future Indications.
Introduction by J J Gagliardino.
The potential of metformin for diabetes prevention.       
The role of metformin in polycystic ovary syndrome and infertility.         
Potential of metformin in the management of insulin-resistant states.
The potential of metformin for the treatment of neoplastic disease.
Future role of metformin in healthcare therapy.
Section 8  The metformin 50-year roll of honour.
Index.