Methods for the Study of Marine Benthos, 3rd Edition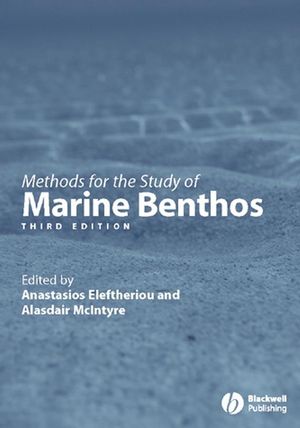 Methods for the Study of Marine Benthos, 3rd Edition
ISBN: 978-0-470-99511-2 April 2008 Wiley-Blackwell 440 Pages
Description
Ecosystems of the benthic environment are a sensitive index to ecological change, and as such demand long-term and effective monitoring. Methods for the Study of Marine Benthos provides comprehensive information on the tools and techniques available to those working in areas where the declining health of the sea, depletion of marine resources and the biodiversity of marine life are major concerns.
In response to the need for increasingly detailed information on bottom-living communities, this fully revised new edition offers:



Contributions from a broad range of internationally recognised experts


New information for those compiling environmental impact statements, pollution assessments and working with eco-system management


Two separate chapters on Imaging Techniques and Diving Systems
A vital tool for all marine and environmental scientists, ecologists, fisheries workers and oceanographers, libraries in all universities and research establishments where these subjects are studied and taught will find this book a valuable addition to their shelves.
Table of contents
Chapter 1.
Design and Analysis in Benthic Surveys.
Chapter 2.
Sediment Analysis and Seabed Characterisation.
Chapter 3.
Imaging Techniques.
Chapter 4.
Diving Systems.
Chapter 5.
Macrofauna Techniques.
Chapter 6.
Meiofauna Techniques.
Chapter 7.
Deep-Sea Benthic Sampling.
Chapter 8.
Measuring the Flow of Energy and Matter in Marine Benthic Animal Populations
Reviews
"The newest edition povidesuseful updates on a broad spectrum of methods for studying the soft-sediment benthos."
National Shellfisheries Association
"Every field of science has its 'how to' handbook and Methods for the Study of Marine Benthos has filled that niche for researchers studying the biology of the soft-bottom benthos...The newest edition provides useful updates on a broad spectrum of methods for studying the soft-sediment benthos...[it] remains an invaluable compendium of information for researchers in the field of marine soft sediment biology and a copy should reside on the shelves of marine science libraries."
Robert B. Whitlatch, University of Connecticut
Features


Contributions from a broad range of internationally recognised experts

New information for those compiling environmental impact statements, pollution assessments and working with eco-system management

Two separate chapters on Imaging Techniques and Diving Systems