Methods of Biochemical Analysis, Volume 24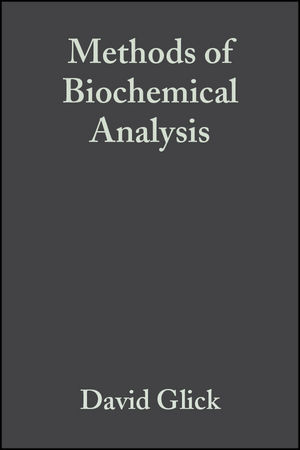 Methods of Biochemical Analysis, Volume 24
ISBN: 978-0-470-11086-7 September 2009 502 Pages
Description
Biochemical analysis is a rapidly expanding field and is a key component of modern drug discovery and research. Methods of Biochemical Analysis provides a periodic and authoritative review of the latest achievements in biochemical analysis. Founded in 1954 by Professor David Glick, Methods of Biochemical Analysis provides a timely review of the latest developments in the field.
Analysis of Morphine and Related Analgesics by Gas Phase Methods (J. P. G.
Thenot, & K. D.
Haegele.) Methods for Analysis of Connective-Tissue Macromolecules by Determination of Certain Constituents (N. Bluemenkrantz and G. A.
Hansen).
Determination of Fluorine in Biological Materials (P. Venkateswarlu).
Determination of Heparin and Related Sulfated Mucopolysaccharides (L. B. Jaques).
Field Desorption Mass Spectrometry and Its Application in Biochemical Analysis (H. R. Schulten).