Methods of Biochemical Analysis, Volume 25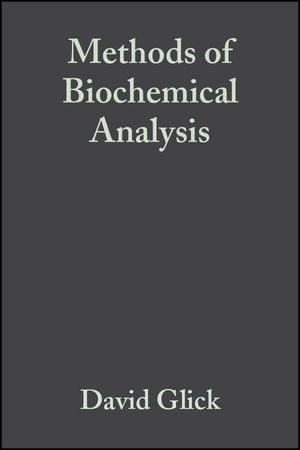 Methods of Biochemical Analysis, Volume 25
ISBN: 978-0-470-11087-4 September 2009 382 Pages
Description
Biochemical analysis is a rapidly expanding field and is a key component of modern drug discovery and research. Methods of Biochemical Analysis provides a periodic and authoritative review of the latest achievements in biochemical analysis. Founded in 1954 by Professor David Glick, Methods of Biochemical Analysis provides a timely review of the latest developments in the field.
The Application of High Resolution Nuclear Magnetic Resonance to Biological Systems (I. Campbell and C. Dobson).
Immobilized Enzymes in Biochemical Analysis (J. Everse, et al.).
Separation and Quantitation of Peptides and Amino Acids in Normal Human Urine (M. Lou and P. Hamilton).
Mapping of Contact Areas in Protein-Nucleic Acid and Protein-Protein Complexes by Differential Chemical Modification (H. Bosshard).
Determination of the Activity of Lipoxygenase (Lipoxidase) (S. Grossman and R. Zakut).
Author and Subject Indexes.
Cumulative Author and Subject Indexes, Volumes 1-25 and Supplemental Volume.