Methods of Biochemical Analysis, Volume 26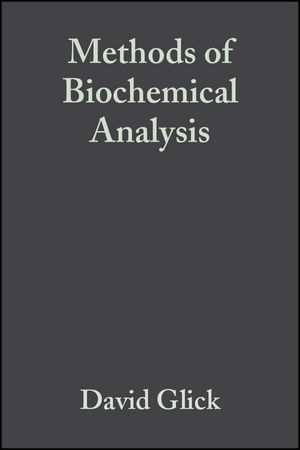 Methods of Biochemical Analysis, Volume 26
ISBN: 978-0-470-11088-1 September 2009 451 Pages
Description
Biochemical analysis is a rapidly expanding field and is a key component of modern drug discovery and research. Methods of Biochemical Analysis provides a periodic and authoritative review of the latest achievements in biochemical analysis. Founded in 1954 by Professor David Glick, Methods of Biochemical Analysis provides a timely review of the latest developments in the field.
The Use of the Avidin-Biotin Complex as a Tool in Molecular Biology (E. Bayer and M. Wilchek).
Polarographic Measurement of Steady State Kinetics of Oxygen Uptake by Biochemical Samples (H. Degn et al.).
Analysis of Biological Macromolecules and Particles by Field-Flow Fractionation (J. Giddings et al.).
Recent Developments in the Stopped-Flow Method for the Study of Fast Reactions (K. Hiromi).
Peptide Mapping of Proteins (G. James).
Solid-Phase Methods in Protein Sequence Analysis (R. Laursen and W. Machleidt).
Analysis of Cellular Electron Transport Systems in Liver and Other Organs by Absorbance and Fluorescence Techniques (H. Sies and B. Brauser).
High Temperature Gas-Liquid Chromatography in Lipid Analysis (V. Vaver and A. Ushakov).
Author and Subject Indexes.
Cumulative Author and Subject Indexes, Volumes 1-26 and Supplemental Volume.