Methods of Biochemical Analysis, Volume 30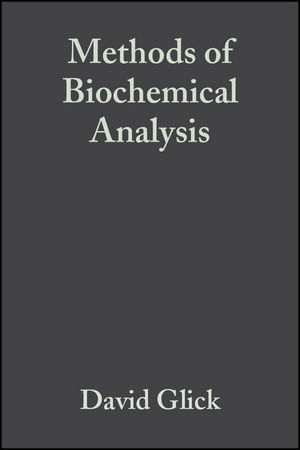 Methods of Biochemical Analysis, Volume 30
ISBN: 978-0-470-11092-8
Sep 2009
377 pages
Description
Biochemical analysis is a rapidly expanding field and is a key component of modern drug discovery and research. Methods of Biochemical Analysis provides a periodic and authoritative review of the latest achievements in biochemical analysis. Founded in 1954 by Professor David Glick, Methods of Biochemical Analysis provides a timely review of the latest developments in the field.
Quantitation of Lipid Transfer Activity (J. Wetterau and D. Zilversmit).
Measurement of Oxygen Consumption by the Spectrophotometric Oxyhemoglobin Method (O. Barzu).
The pH Jump: Probing of Macromolecules and Solutions by a Laser-Induced, Ultrashort Proton Pulse - Theory and Applications in Biochemistry (M. Gutman).
Density Gradient Electrophoresis of Mammalian Cells (A. Tulp).
Historical Development and Newer Means of Temperature Measurement in Biochemistry (R. Berger et al.).
Laser Photolysis in Biochemistry (S. Chan and R. Austin).
Author and Subject Indexes.