Methods of Biochemical Analysis, Volume 32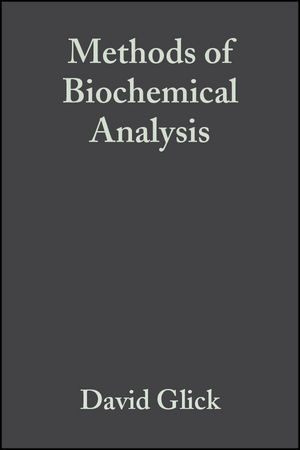 Methods of Biochemical Analysis, Volume 32
ISBN: 978-0-470-11094-2 September 2009 450 Pages
Description
Biochemical analysis is a rapidly expanding field and is a key component of modern drug discovery and research. Methods of Biochemical Analysis provides a periodic and authoritative review of the latest achievements in biochemical analysis. Founded in 1954 by Professor David Glick, Methods of Biochemical Analysis provides a timely review of the latest developments in the field.
Table of contents
Activator Proteins for Lysosomal Glycolipid Hydrolases (
E. Conzelmann and K. Sandhoff
).
Isolation and Analysis of Cell Walls from Plant Material (R. R. Selvendran and M. A. O'Neill).
Electro-Optical Reflection Methods for Studying Bioactive Substances at Electrode-Solution Interfaces-An Approach to Biosurface Behavior (K. Takamura and F. Kusu).
Isoelectric Focusing in Immobilized pH Gradients: Theory and Newer Technology (P. G. Righetti and E. Gianazza).
Assays for Superoxide Dismutase (J. V. Bannister and L. Calabrese).
The Radiation Inactivation Method as a Tool to Study Structure-Function Relationships in Proteins (G. Beauregard, A. Maret, R. Salvayre and M. Potier).
Immunoassay with Electrochemical Detection (W. R. Heineman et al.).
Index.