Michael Allen's 2008 e-Learning Annual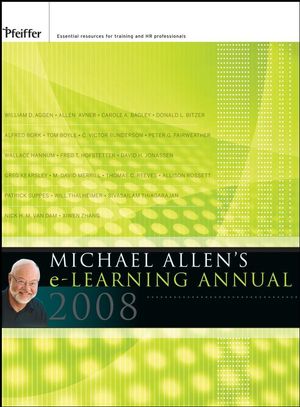 Description
The field of e-learning has experienced dramatic, and at times chaotic, growth. Over time, as technology has improved and its advantages have become clear, e-learning has gained widespread acceptance. It is now the fastest growing sector of corporate learning. Michael Allen's 2008 e-Learning Annual presents a wide range of perspectives from some of the earliest and most renowned leaders in field. This important resource will help both educators and trainers create, purchase, and apply quality e-learning programs more effectively. It provides a wealth of applicable history and guidance for all persons contemplating e-learning, from the student to the organizational leader. It frankly and objectively presents lessons learned and the critical steps to success. Michael Allen's 2008 e-Learning Annual is part of the Pfeiffer Annual series, first published in 1972.
Preface.
Section 1. Visionary Pioneers Continue to Guide Us.
Reflections on TICCIT (C. Victor Bunderson).
Addressing Diversity in (e-)Learning (Patrick Suppes in conversation with Michael W. Allen).
PLATO, Plasma Screens, and Computer-Based Education (Donald L. Bitzer in conversation with Michael W. Allen).
Section 2. Learning Technology Takes Shape.
Back to the Future of Educational Technology (Fred T. Hofstetter).
It Seemed Like a Good Idea at the Time: The Development of Computer-Assisted Instruction in Schools (Peter G. Fairweather).
Reflections on e-Learning: The Long History of a New Idea (Wallace Hannum).
Lessons from the STARS Revisited (Thomas C. Reeves and William D. Aggen).
Reflections on a Four-Decade Search for Effective, Efficient, and Engaging Instruction (M. David Merrill).
Section 3. What Does It All Mean? Pitfalls and Overhauls.
Dreams and Responsibilities: Learning and the New Technologies (Tom Boyle).
Beyond Knowledge Dissemination: Learning to Solve Problems Online (David H. Jonassen).
What's Right and What's Wrong with Online Learning (Greg Kearsley).
Technology and Learning: A Proposal for Adaptive Tutorial Learning (Alfred Bork, Carole A. Bagley, and Xiwen Zhang).
Cheap But Not Tacky: Lessons Learned During e-Learning Adventures (Sivasailam "Thiagi" Thiagarajan).
Section 4. Are We Lost? Where Do We Go from Here?
Moving e-Learning into the Workplace (Allison Rossett).
The Business Impact of e-Learning (Nick H.M. van Dam).
Lessons Learned . . . and Relearned (Allen Avner).
We're Professionals, Aren't We? What Drives Our Performance? (Will Thalheimer)
A Final Word.
Pfeiffer Publications Guide.
e-learning Demos



Client: California Commission on Peace Officer Standards and Training (POST)

Course: Law Enforcement Response to Terrorism

The Challenge

Given the current climate surrounding terrorism, The California Commission on Peace Officer Standards and Training needed a new and engaging learning solution that would reach peace officers throughout the state of California, as there is tremendous need to raise awareness of terrorism issues and to provide law enforcement with concrete strategies to address them.

The Solution

A program that focuses on engaging, relevant, and behavior-changing learning experiences, providing peace officers with concrete strategies they can apply in the field to prevent, disrupt and respond to terrorist attacks.




Client: Manpower Inc.

Course: Manpower Sales Personnel

The Challenge

Train field sales representatives to learn and implement a six-step sales process for temporary staffing services.

The Solution

The learning solution provides a simulated conversation with engaging questioning and rich feedback through customer comments, thoughts, body language, motivation measures, and expert coaching. Four, three-part conversations provide realistic application practice for the sales process.




Client: Motorola, Inc.

Course: Moto Q&trade 9m Learning Program

The Challenge

Teach retail sales representatives how the Q is differentiated from other mobile devices and how to translate this to the customer to increase sales.

The Solution

Present the features of the Q in an engaging manner to help build mind share with the sales reps and provide opportunities for the sales reps to practice translating key features to benefits for their customers.




Client: Expedia, Inc.

Course: New York City Destination Learning

The Challenge

Improve travel phone consultants' knowledge and customer service skills regarding relevant details about primary travel destinations like New York City.

The Solution

Provide simulated challenges and tools to research and learn key elements of a destination.




Client: Union Bank of California, N.A.

Course: Frontline Loss Prevention

The Challenge

A web-based learning solution was needed to provide continual learning reinforcement to a wide geographic distribution of employees (tellers and financial services staff) regarding customer fraud and loss prevention.

The Solution

This solution allows employees to identify a range of loss-related activities and practice appropriate actions. Short, simulated practice modules are a key design feature in enabling employees to apply and refine their skills while on the job.

View Module: Identifying the Presenter

Download