Michel de Certeau: Interpretation and Its Other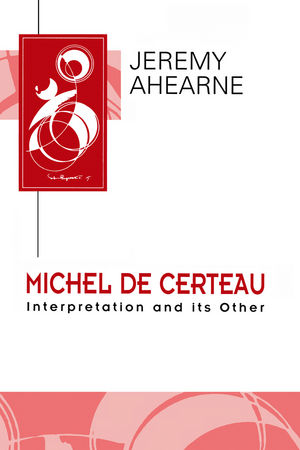 Michel de Certeau: Interpretation and Its Other
ISBN: 978-0-745-66556-6
Jul 2013, Polity
238 pages
Description
Since his death in 1986, Michel de Certeau's reputation as a thinker has steadily grown both in France and throughout the English-speaking world. His work is extraordinarily innovative and wide-ranging, cutting across issues in historiography, literary and cultural studies, anthropology, sociology, theology, philosophy and psychoanalysis.


This book represents the first full-length study of Certeau's thought. It is organized around the central theme of interpretation and alterity, which Ahearne uses to illuminate Certeau's work as a whole. The author also examines Certeau's theory and practice of historiography; his reflection on the relations between changing historical forms of writing, reading and orality; and his distinction between the "strategic" programmes of the politically powerful and the "tactics" of the relatively powerless.


Ahearne places Certeau's work in its general intellectual context, relating it to the views of important contemporary thinkers, such as Pierre Bourdieu and Michel Foucault, and demonstrating the decisive importance to Certeau's thought of the writings of the early modern mystics and travellers.


This book constitutes an excellent critical introduction to Certeau's work, while also providing a comprehensive and nuanced reading for those already familiar with his thought.
List of Abbreviations.
Introduction.
Part I: Implications:.
1. The Historiographical Operation.
2. Interpretation and its Archaeology.
Part II: Fables:.
3. Voices in the Text.
4. Mystics.
Part III: Strategies and Tactics:.
5. Strategic Operations.
6. Turns and Diversions.
Conclusion.
Notes.
Bibliography.
Index.
"This book is a jewel of an introduction to one of the most potent and enduring thinkers of our time."
Professor Tom Conley, Harvard University
"Polity is to be congratulated for its vision ... an important victory for the still fledgling field of de Certeau studies." Social Semiotics

"A coherent and faithful account of Certeau's thought on the methodology of properly conducted enquiries into social organization ... it grapples conscientiously with the intricacy of thought and language to which modern French thinkers have often felt it necessary to have recourse ... contains often lucid and penetrating insights." The Heythrop Journal

"The first full length study [with] an overview of recurring themes that will be of interest to those new to this complex thinker and to those already versed in some aspects. We are taken through a detailed questioning of the very possibilities of knowledge and of communication with others." Times Higher Education Supplement

"[An] excellent ... first full-length study." Year's Work in Critical and Cultural Theory

"This generous, beautifully argued work of synthesis and interpretation should lead us to Certeau's own writings." American Historical Review

"Ahearne has succeeded in presenting us with a clearly written and well argued text, without ever reducing De Certeau to the rhetorical figure of a 'key thinker'... Ahearne brings De Certeau, as it were, back to life." The Sociological Review
This is the first full-length study of Michel de Certeau's thought
Provides both an excellent critical introduction to Certeau's work and a comprehensive analysis for readers already familiar with Certeau's work
The author relates Certeau's work to the views of important key contemporary thinkers such as Pierre Bourdieu and Michel Foucault
An important contribution to our Key Contemporary Thinkers Series.