Micro-Manufacturing: Design and Manufacturing of Micro-Products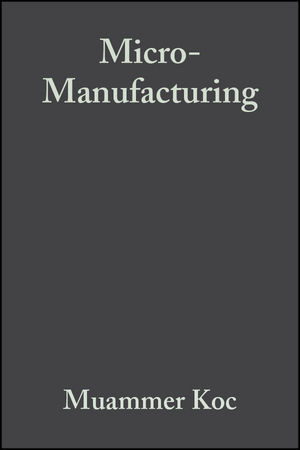 Micro-Manufacturing: Design and Manufacturing of Micro-Products
ISBN: 978-1-118-01056-3 May 2011 400 Pages
Description
This book is the first of its kind to collectively address design-based and mechanical micro-manufacturing topics in one place.  It focuses on design and materials selection, as well as the manufacturing of micro-products using mechanical-based micro-manufacturing process technologies.  After addressing the fundamentals and non-metallic-based micro-manufacturing processes in the semiconductor industry, it goes on to address specific metallic-based micro-manufacturing processes, such as: micro-forming, micro-machining, micro-molding, micro-laser processing, micro-layered manufacturing, micro-joining, micro-assembly and materials handling, and microEDM and ECM. The book provides an in-depth understanding of materials behavior at micro-scales and under different micro-scale processing conditions, while also including a wide variety of emerging micro-scale manufacturing issues and examples.
FOREWORD.
CONTRIBUTORS.
1 FUNDAMENTALS OF MICRO-MANUFACTURING.
2 MICRO-FABRICATION PROCESSES IN SEMICONDUCTOR INDUSTRY.
3 MODELING AND ANALYSIS AT MICRO-SCALES.
4 METROLOGY, INSPECTION, AND PROCESS CONTROL IN MICRO-SCALES.
5 MICRO-LAYERED MANUFACTURING.
6 MICRO-LASER PROCESSING.
7 POLYMER MICRO-MOLDING/FORMING PROCESSES.
8 MECHANICAL MICRO-MACHINING.
9 MICRO-FORMING.
10 MICRO-ELECTRO DISCHARGE MACHINING (μEDM).
11 METAL INJECTION MOLDING AT MICRO-SCALES (μMIM).
INDEX.